Option trading has many advantages over other investment vehicles. Trading in option contracts can give an investor the flexibility to place bets on very specific market outcomes; up, down, sideways between price $A and $B, volatile and so on. They can be a complex topic to understand at first - calls, puts, delta, hedging etc. But trust me, many a newbie have started this path just like you. Starting slowly, a few concepts at a time and before you know it you'll be placing your first option trade.
You might think options are a finance novelty. If so, you might want to take a good look at this volume graph taken the US Options Clearing Corporation;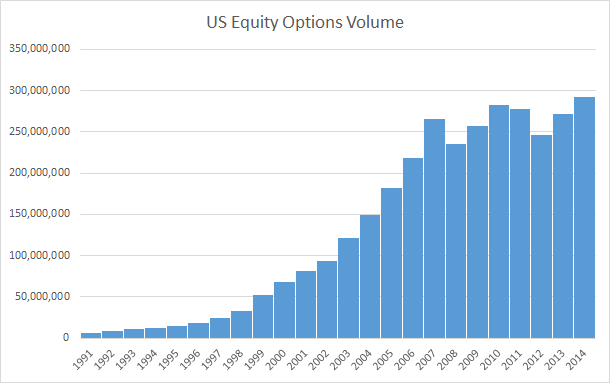 US Volume Statistics from the OCC
At the end of 2014 US equity options are at an all time high of 292 million contracts traded - a 7% increase on 2013 volumes.
The explosion and continued growth of the option market proves its' every increasing popularity amongst the retail trading segment. Retail traders are loving the leverage, available asset selection and variety of trades possible with options and combinations of options. Traders can now choose options, not only on stocks, but on indicies, commodities, foreign exchange and exchange traded funds (ETFs).
A big factor in moving traders from traditional stock trading over to options is the leverage options can provide over the underlying instrument; and depending how you structure a trade, your entire risk per trade can be capped at a per-determined amount. Meaning, you can know in advance what your worst case loss is if the trade goes completely against you - something traditional stock trading lacks.
As a retail trader, you can outlay $20 on a stock option where the play is for a market rally in the next two weeks. Even if the stock tanks and goes to zero, your loss will be capped at $20. However, let's say the stock rallies hard on an earnings report, takeover or some other significant event (maybe a tip from a friend) and ends up 15% higher over the two weeks - your net gain could be $150! Risking $20 to make $150.
Everything you need to get started with your first trade you will find on this site. You're welcome to ask questions either via the comments box at the bottom of most pages or via FaceBook and Twitter. Please shout out if you have any questions or suggestions for the site!