Overwhelmed with all the information about what stocks to trade options in?
"Discover How To Find The Best Option Trading Opportunities & Become A Successful Options Trader Today"
---
If you're reading this then that can only mean one thing…
You're sick of sifting through all the information plaguing the internet on what stocks to trade options in. And you need a solution.
You've come to the right place.
I'm here to tell you about a game-changing product that'll skyrocket your profits and success to a whole new level.
I have used this product in numerous trades with my own money. And guess what? I've actually generated some truly incredible profits because of it.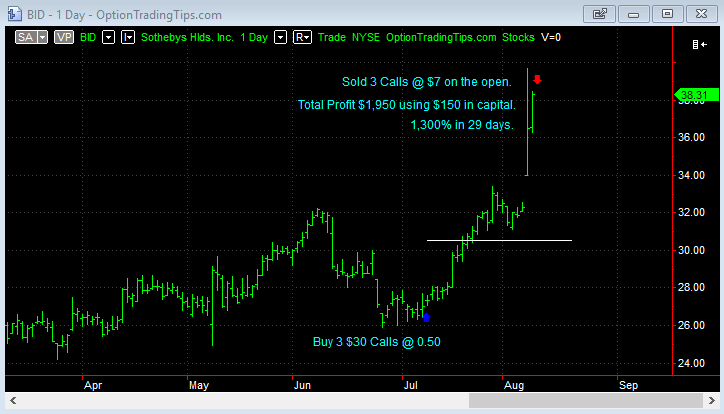 Before you find out more about this incredible solution, there's something you should know.
"Not Long Ago, I Had No Idea How To Successfully Make Profits Through Options Trading..."
I would constantly be scouring the internet looking for that magic scheme that would show me how to actually make a profit through options trading.
There had to be something out there. After all there were so many other people making money through options trading. And I desperately wanted to be one of them.
I wanted to take it full time and make a living off it, but I could barely make pocket money at the time.
"I Came To Some CRUSHING Conclusions About Options Trading"
I was completely overwhelmed by all the information out there about which stocks I should be trading options on.
There was such a large selection criteria when it came to picking the right stocks - considering there were thousands of stocks in the US market.
Even if I chose a stock I still didn't know what option contracts to trade for each stock - there were hundreds to choose from after all.
I couldn't definitively decide which direction a stock would go, so I was always doubting my choices.
All the products on the market that said they could help required monthly subscription costs to use the most useful parts.
These problems kept me up at night. I couldn't see a way in which I'd actually succeed.
"But Then I Had A Revelation That Would Change Everything"
One day I just sat down and began researching all the huge moves in the stock market.
I soon realised that all these moves were actually preceded by big plays in the options markets.
I don't know why I hadn't seen it before.
"So I Discovered An Insanely Accurate Scanning Software That Would Spy On The Insider Trading Before The Moves Even Happened"
This scanning software will help you master the options trading scene and actually make you money.
You'll be able to earn whatever you like with this software - you can even take option trading full time and make a living from it.
Here's what it will do for you...
You'll never again be overwhelmed by which stocks you should be trading options in.


You won't be scared by the large selection criteria when it comes to choosing the right stocks.


You'll actually know what option contracts to trade for each stock.


You won't be going in blind when you pick which direction the stock will go.


You won't have to pay a huge data cost each month.
Don't believe me?
"Option Scanning Software Allowed These Option Trader To Make Some Unbelievable Profits"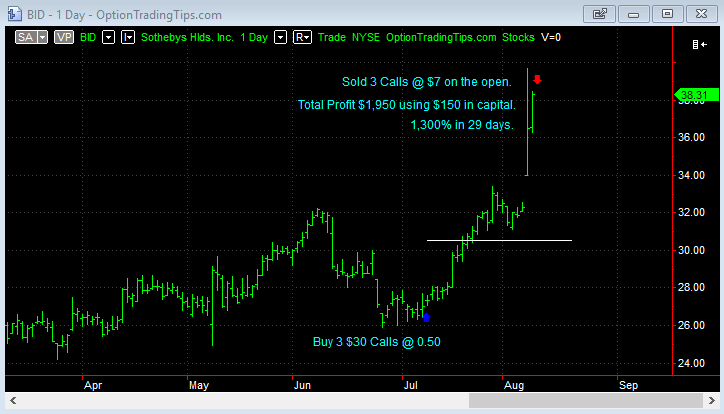 I turned $150 into $1,950 in only 29 days with this trade. To be fair, this trade is my biggest win so far using OPS. I have had plenty of losing trades too, which you can read about under my trading link, but the gains made like this one are great examples of how abnormal volumes can indeed indicate some inside information is fueling option activity.
Here is a screen shot of the Option Scanner results page after the US market had closed on the 8th July, 2016. I ran the scan on the Monday, which is why the date at the bottom of the program shows the date as the 11th. But the data is from the close of business on Friday the 8th.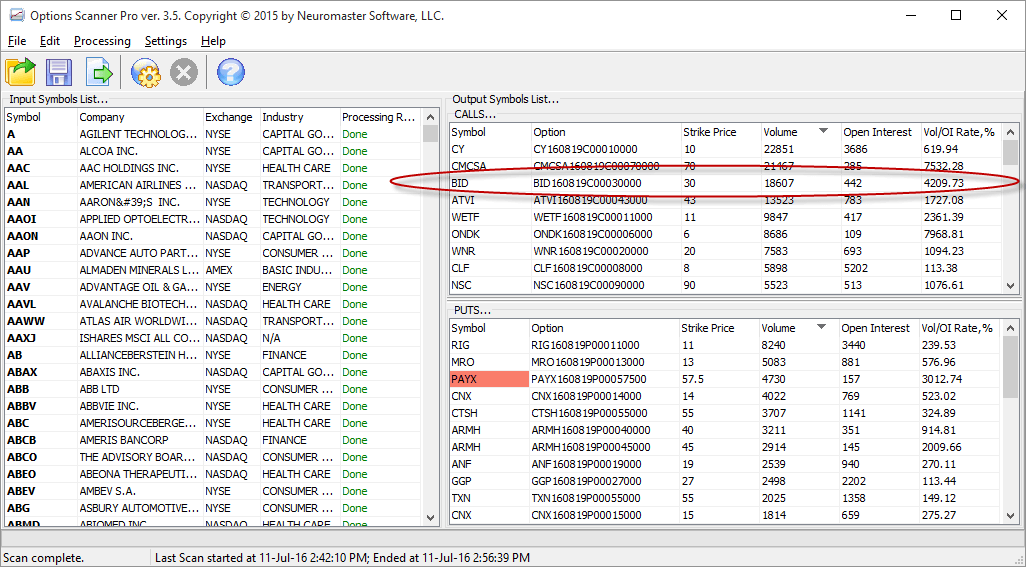 The top pane here where I've circled the entry shows the top listed call options with high volume vs open interest.
For BID, the scanner is pulling up the $30 call option that is to expire on the 19th August. This one strike has traded 18,607 contracts over 442 existing contracts in open interest.
Now, you might ask "what about the top two entries, CY and CMCSA? You're cherry picking these results!".
I don't take positions in every or even only the top listed stocks that show in the list each day. Once I find a candidate, I go and take a look at the entire series just to see if the volumes and open interest of the other strikes are high or low. If all strikes are showing a lot of volume or there is a lot of outstanding open interest, then the 18k shown isn't really significant when viewing the entire series. What I'm looking for are "standout" opportunities. So, here is a screen grab of the option chain on that day, which I took from Google Finance: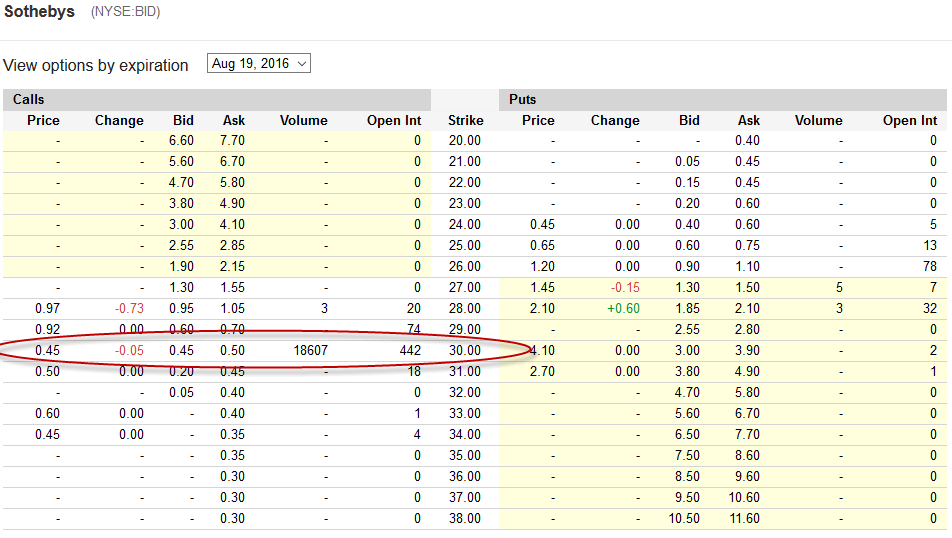 As you can see, 18k contracts traded is a very significant amount for this stock. Only 11 other contracts traded across all the other strikes for this day.
While it is interesting to see an amount like this trade, this alone doesn't have any context. However, when I looked at the Yahoo! earnings calendar it shows BID were due to announce their Q2 earnings numbers on the 8th August. So now, it looks like perhaps some inside information has leaked, or at least someone knows something not reflected in the price of the stock.
I ended up buying 3 contracts of the $30 calls for 0.50 each. My net spend was $150.
On Monday the 8th August, news broke that the stock's earnings were larger than expected and the stock jumped 23% post the announcement.
I didn't hold onto the trade until expiration; I closed the trade out on Tuesday the 9th August by selling the call options back to the market for a price of $7!
From this one trade, I turned $150 into $1,950, which is a 1,300% return!
Here are the news announcements regarding the earnings break:
Sothebys Shares Climb on Strong Q2 Profit
Sothebys Breaks After Earnings Pop
More Live Examples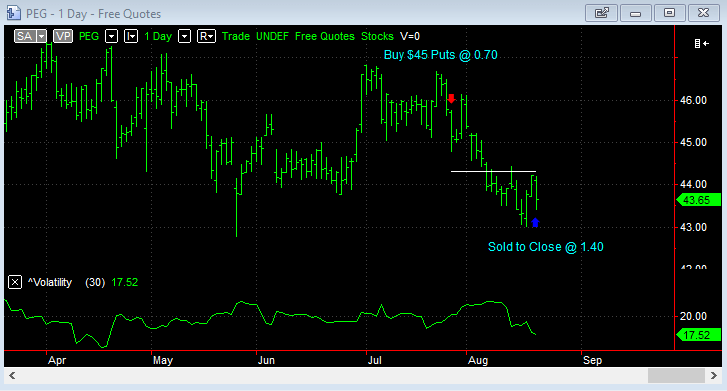 | Stock | PEG |
| --- | --- |
| Position | Long Puts |
| Trade Length | 23 Days |
| Capital | $140.00 |
| P&L | $140.00 |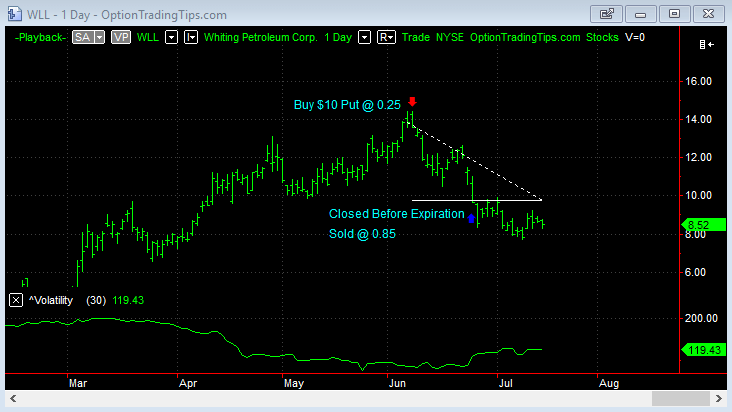 | Stock | WLL |
| --- | --- |
| Position | Long Puts |
| Trade Length | 16 Days |
| Capital | $125.00 |
| P&L | $300.00 |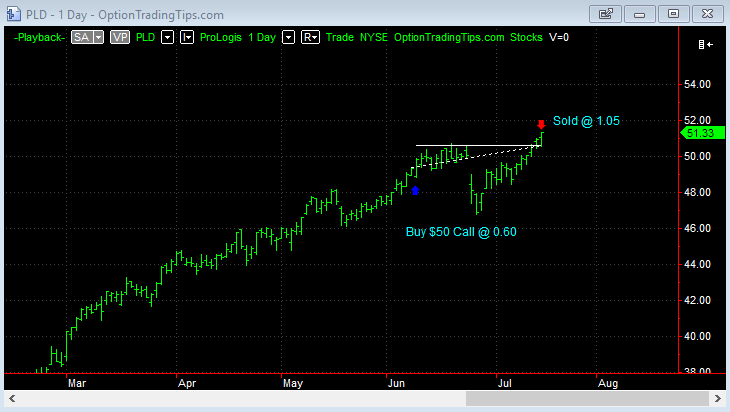 | Stock | PLD |
| --- | --- |
| Position | Long Calls |
| Trade Length | 36 Days |
| Capital | $120.00 |
| P&L | $90.00 |
How About Some Bad News Events?
As mentioned, I didn't take every opportunity presented, but here are two interesting examples of suspicious put option volumes prior to a stock tanking outside of an earnings announcements.
Just a reminder: Put options carry the right to "sell" a stock at a given price. So, the price of a put option will go UP when the price of the stock goes DOWN. You buy put options if you expect the stock price to decrease.
CEO's Dismissal Predicted by Put Option Volumes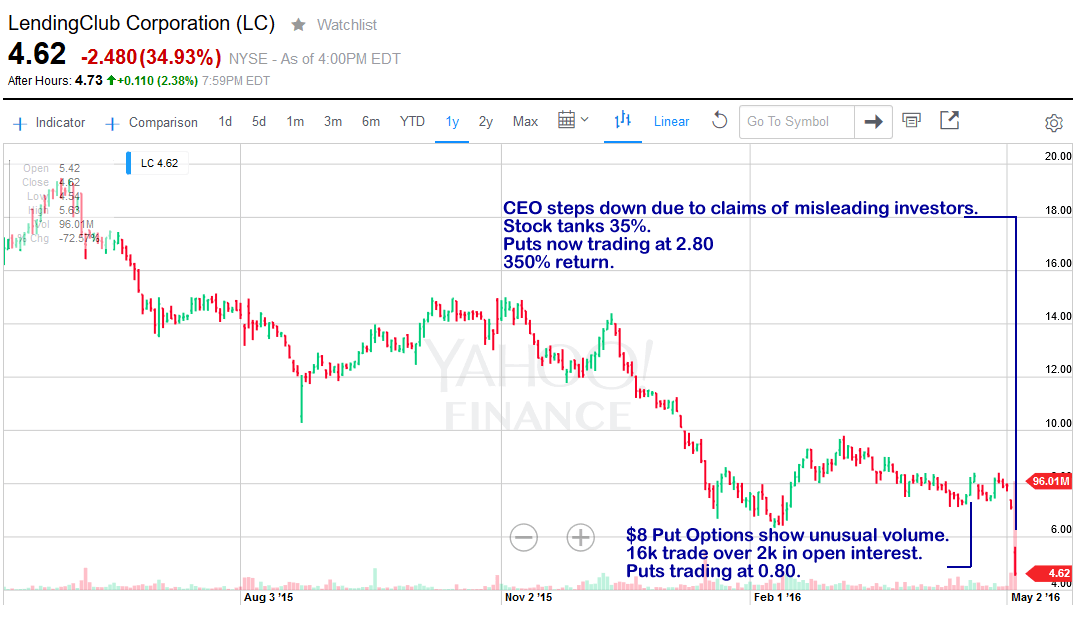 On the 19th April, options in Lending Club were top of the list when I ran the scans on the 20th. The 20th May $8 put options traded 16,437 over 2,027 in open interest. That's 810% increase. The price of these puts on the close were 0.80.
On the 9th May, the CEO was dismissed. Reports at the time weren't conclusive as to if he was fired, resigned or what. Either way news broke that he violated securities law by misrepresenting investors with their company information. As a result, the stock tanked 35% on the news.
At the close of business on the 9th May, the put options were trading at 2.80. If you had bought those puts, you would have made 350% return on your investment in 20 days!
Here is more on this one with the news articles:
Put Options Forecast Bankruptcy?
On the 30th March SUNE, while not at the top of the list, showed up with a large volume spike on the 0.50 put options for the 1st April expiration. I made this announcement on my FaceBook page: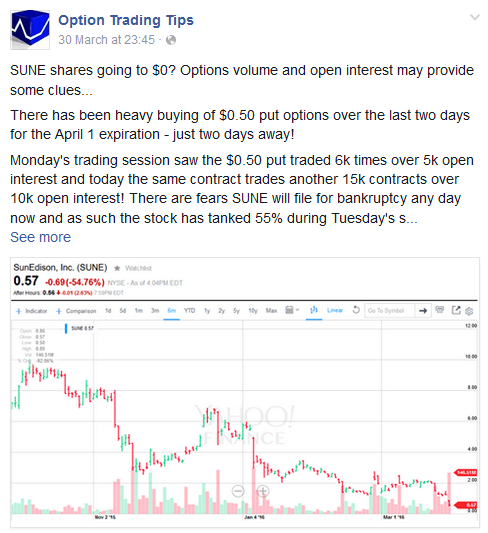 Since then, it has been reported that SUNE is indeed preparing to file for bankruptcy, which has seen the shares tumble further since this post to end Friday the 1st April's session trading at 0.24.
"Proudly Introducing...Option Scanner Pro - The Only Standalone Option Scanning Software You'll Ever Need"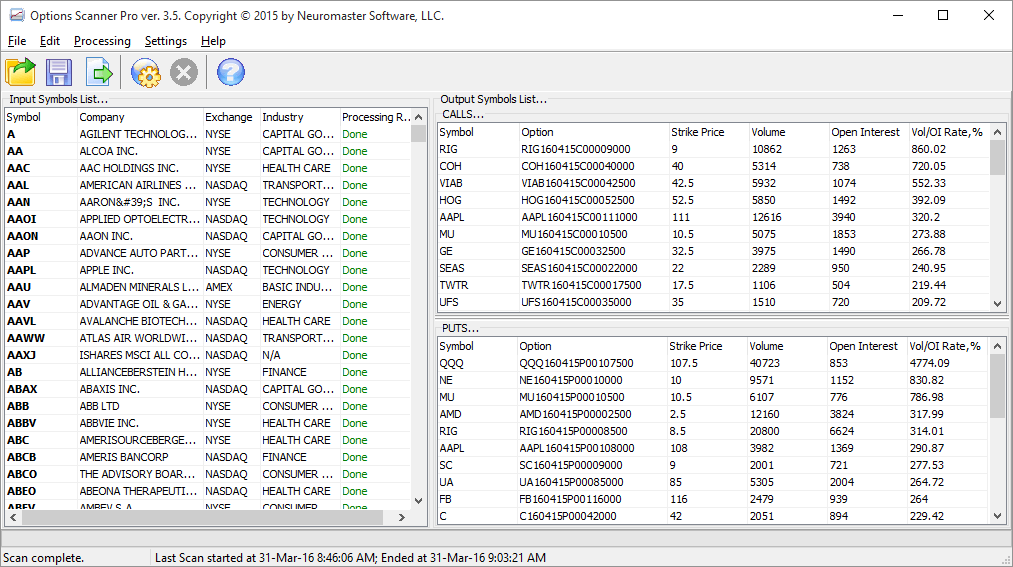 Option Scanner Pro is exactly what it says on the tin.
It's a scanner. More precisely though, it's a scanning software that literally scans the entire US Stock Market to locate the best option trading opportunities.
Let's run through the exclusive features and benefits of Option Scanner Pro...
The Entire Us Stock Market at Your Fingertips

Option Scanner Pro sifts through hundreds of thousands of stocks and ETFs to find you the ones with the highest potential.

Spot the Winners Easily

It highlights all the option contracts that have shown a significant increase in their volume activity.

Fully Customizable Criteria

You can narrow down the results by volume and open interest to emphasize the results you want to see, above all else.

Save Hours Not Minutes

You can save a ton of time. We're talking hours and hours of time spent scouring the market for the most profitable stocks. Option Scanner Pro will do it in minutes.

Easy view-ability

Export all the results quickly and easily to text files for your viewing pleasure. View all your potential trading options in one place.

Keep up with the Big Wigs

Option Scanner Pro will show you exactly where the money is flowing; meaning you can get ahead of the pack and follow the trading "footprints" of the big institutional players.

Access to Exclusive Clues

You'll be provided with sought after clues about possible insider trading. And that's before a stock's earnings announcement occurs.
"Get Option Scanner Pro While You Can - This Offer Won't Be Around Forever"
At some point in the future (there's no exact date in mind) the price of Option Scanner Pro will be going up.
It might be double what you see here today. It may even be triple - and this could happen at at time.
But there is one thing that you can definitely be sure of...
You'll never see this product cheaper than you see here today.
See the thing is, the bonuses included alongside Option Scanner Pro are easily worth the price of this amazing software alone.
(You'll find out more about these soon.)
Look. Don't worry.
You're not going to be asked to hand over an extortionate amount of money for this incredible software...
Especially considering the ridiculous monthly subscription prices other web based solutions would charge you just to have access to their premium features.
Today's price will actually be much lower than you think.
"These Insane Bonuses Will Amplify The Sheer Power Of Option Scanner Pro"
Including theses bonuses was a no-brainer. They really do multiply the already impressive power of Option Scanner Pro.
And allowing you access to them will skyrocket your success and ultimately your profits to unknown levels...
...This is exactly why you'll get them all at no extra cost.
Bonus #1: Secret Strategy Video
Immediately after you purchase, you will be directed to a bonus video tutorial demonstrating exactly how to use the scanner not only for option gains but as a way to trade stocks outright!
Value - $97 value.
Bonus #2: 100% FREE Upgrades For 1 Year
The developer is always making improvements to the product; enabling faster scans, more data such as implied volatility etc. Typically these updates require a small upgrade fee, however, these charges are waived for the first year.
Value - $197 value.
Bonus #3: LIFETIME Data Feed
The Option Scanner uses end of data option data taken from all of the option exchanges in the US, including the implied volatility data. This data is not free, if you were to subscribe to this data from a vendor such as
this one
, you would be paying $395 PER YEAR! But as a purchaser of the Option Scanner, access to this data is covered by your purchase price.
Value - priceless!!!
"Get Option Scanner Pro And All It's Invaluable Bonuses Today For Less"
Before today's incredibly low price is revealed, let's just quickly run through what you'll actually be getting.
Option Scanner Pro - valued at $297
Bonus #1: Secret Strategy Video - valued at $97
Bonus #2: 100% FREE Upgrades For 1 Year - valued at $197
Bonus #3: LIFETIME Data Feed - valued at $395 per year
Total value for all components: $986 for one year.
Purchasing this product will be so much cheaper than hiring me to show you how to create your own from scratch - that's for sure.
Just think of how many years of anxiety and stress you'd have if you tried to do this yourself. Not to mention the fact you'd have to consistently study the US stock market to fully grasp the right way to make a profit.
Once you purchase this product and actually utilize your earning potential will literally go through the roof.
If you don't get in on this today, you could end up missing out on this incredibly special price.
Let's put it this way...once the demand for this product increases (and it definitely will) the price will increase too. It's that simple.
You'll never see it as low as you see here today - that much is guaranteed.
So, with that in mind, you won't be charged $1,997.
You won't even be charged $497.
For this limited time only you can get Option Scanner Pro and all the exclusive bonuses for the discounted price of just $197.
"30-Day Money Back Guarantee If For Some Insane Reason You Don't Like It"
If you purchase this incredible solution and then decide you'd rather go back to tearing your hair out at all the overwhelming stock information out there...
...losing money picking the wrong stocks to trade options on and blindly predicting which direction a stock will take, then that's fine.
There's no logical reason why you'd want to do this, but if you do then that's your choice.
All you have to do, if you decide this, send in an email within 30 days and you'll receive a refund for every cent paid in full.
No questions asked.
You've got plenty of time to make the most of this extraordinary software.
"Get Option Scanner Pro NOW Or Miss Out On Becoming A Successful Options Trader"
This product won't be at this price forever.
There's a sand timer against it. Once the sand stops flowing that's it. The price will increase. It's as simple as that.
The bonuses won't always be a part of this deal either. At some point in the future you'll have to pay extra just to have access to them.
You won't even be able to get this product anywhere else either.
Sure, you could go to a competitor and purchase from them...
...but the features included in Option Scanner Pro are easily superior to anything else on the market today.
Plus, the overall value of the competing products won't even come close to what you're being offered here - today.
"Option Scanner Pro And All These Bonuses For This Amazing Low Price"
So, one more time, here's what you're getting...
Option Scanner Pro - valued at $297
Bonus #1: Secret Strategy Video - valued at $97
Bonus #2: 100% FREE Upgrades For 1 Year - valued at $197
Bonus #3: LIFETIME Data Feed - valued at $395 per year
Total value for all components: $986 for the first year.
As promised - for a limited time only - you'll get all this at X% off the above value today.
Get Option Scanner Pro for just $197.
And again, you risk absolutely nothing here.
If for some crazy reason Options Scanner Pro doesn't work for you, just ask me for a refund within the XX day period and you'll get back every dollar.
"Have Faith In What You Know - Option Scanner Pro Could Change Everything"
Look, you know you want this.
Trust your instincts. You know you want to give this product a shot.
It's worked for others - you've seen that - so there's no reason why it shouldn't work for you.
You won't regret it.
So, what are you waiting for?
Get Option Scanner Pro and Start Succeeding Today.
"You've Seen The Stats, You Know Option Scanner Pro Works"
It makes so much sense to buy this product now.
For one, you save money. You know the price is only going to go up, so there's never going to be a better time to purchase this than right now.
There's added bonuses thrown in too. So, you're getting more for your money. It's risk free too. You're guaranteed to get your money back, if you don't like it. There's also a ton of proof showing that this really does work.
So, why not give it a shot?
Get Option Scanner Pro and Reap the Profits Today.