Payoff Diagrams
The best way to understand option strategies is to look at a diagram of how they behave.
Let's look again at the basics of a Call Option. Here is an example;
Underlying: MSFT
Type: Call Option
Exercise Price: $25
Expiry Date: 25th May (60 days until expiration)
Let's imagine that this option is worth $1.2. This means that the shares have to be trading at $26.20 for us to break even (Exercise Price of $25 plus the Option Premium of $1.20). If the shares are trading anywhere above $26.20 then we can start counting the profits. Anywhere below $26.20 and we lose out by the premium - $1.20. So, with a long call we have limited risk (the Option Premium) while at the same time having unlimited profit potential. Let's look at a graph of this concept;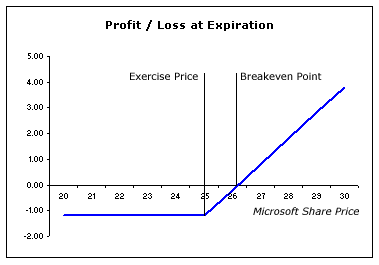 The horizontal line across the bottom (the x-axis) represents the underlying instrument - in this example, the share price of Microsoft. The vertical axis illustrates our profit/loss as the shares move up or down.
The blue line is our payoff.
You can see that the vertical distance between the 0 profit line and the blue line is our maximum loss, i.e. the amount we paid for the option. So, anywhere under our break even point of $26.20 means that the option isn't profitable and we will not exercise and we will lose any premium we paid. If the market crashes and the stock goes bankrupt, our maximum loss will still only be the premium we paid.
However, as the shares trade past the $26.20 mark we start making money. If, at expiry, Microsoft shares are trading at $50 then we will make $23.80 per share.
How? Because we will exercise our right and have the seller of the option hand over Microsoft shares at a value of $25 (the exercise price). Minus the amount we have already paid for the option and we have a profit per share of $23.80.
What about if we sell a call option?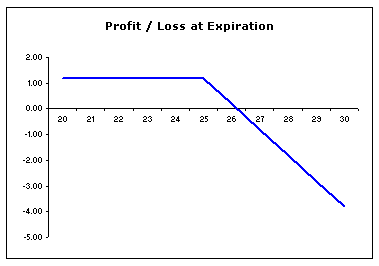 If the shares trade anywhere below $25 then we keep the $1.20 that we received when we sold the call option - the option premium.
However, if the market rallies then our losses become unlimited.
For more option payoff charts, be sure to check out the option strategies link. Or, to see option strategies in action, take a look at the option tutorials section.