COH Earnings Pump Call Option Prices
May 3rd, 2017
The $40 call options that saw unusual volumes pre-earnings have spiked more than 200% in Tuesday's trade. Last paid for the calls on Friday was 1.07 with over 12k contracts trading that day.
Today those options closed the session at 3.48, which is a 225% return!
This was the top result for the June series from the Option Scanner results.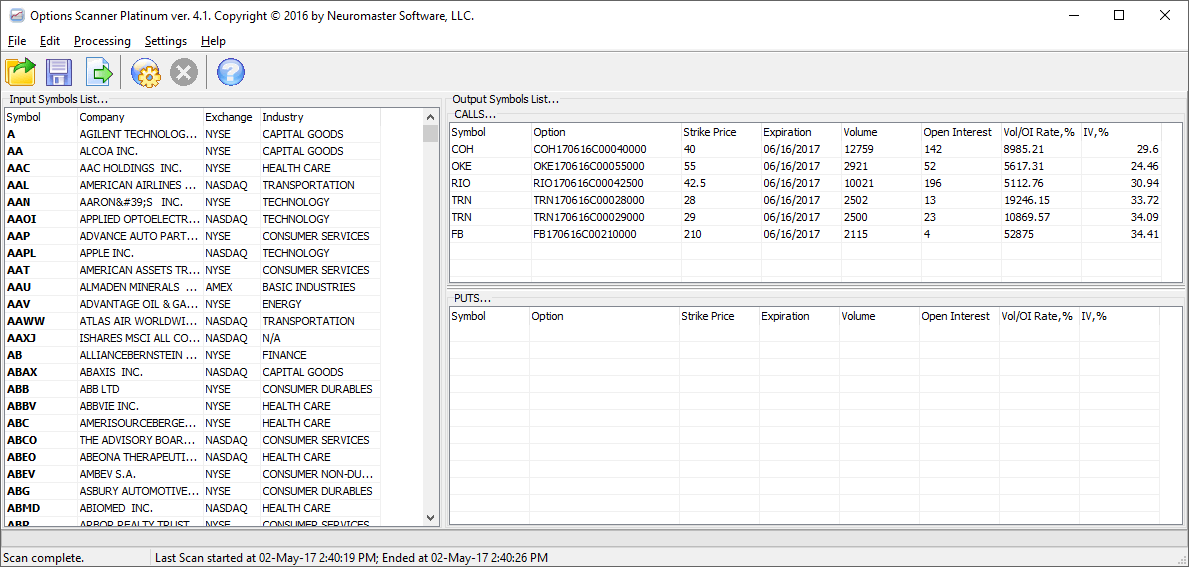 AAPL releases Q2'17 numbers after market close today, Tuesday the 2nd May and investors are still expecting big things from the company; their shares are up 2% from Thursday, closing out last week's trading at $146.58. AAPL's rally helped boost the NASDAQ index, which is also at all time highs, trading at $5,629.63.
Other notable names to release this week are GILD, FB, TSLA, FIT, ATVI and ZNGA.
In addition to these big name stocks releasing numbers this week, the Federal Reserve also kicks off its May policy meeting from Tuesday. Although the markets are not expecting a rate hike, the markets may still react to Fed comments about the state of the economy.
Going from the latest chart of the S&P 500 Volatility Index, it would seem the market has been quietening down before a week of potential ups and downs: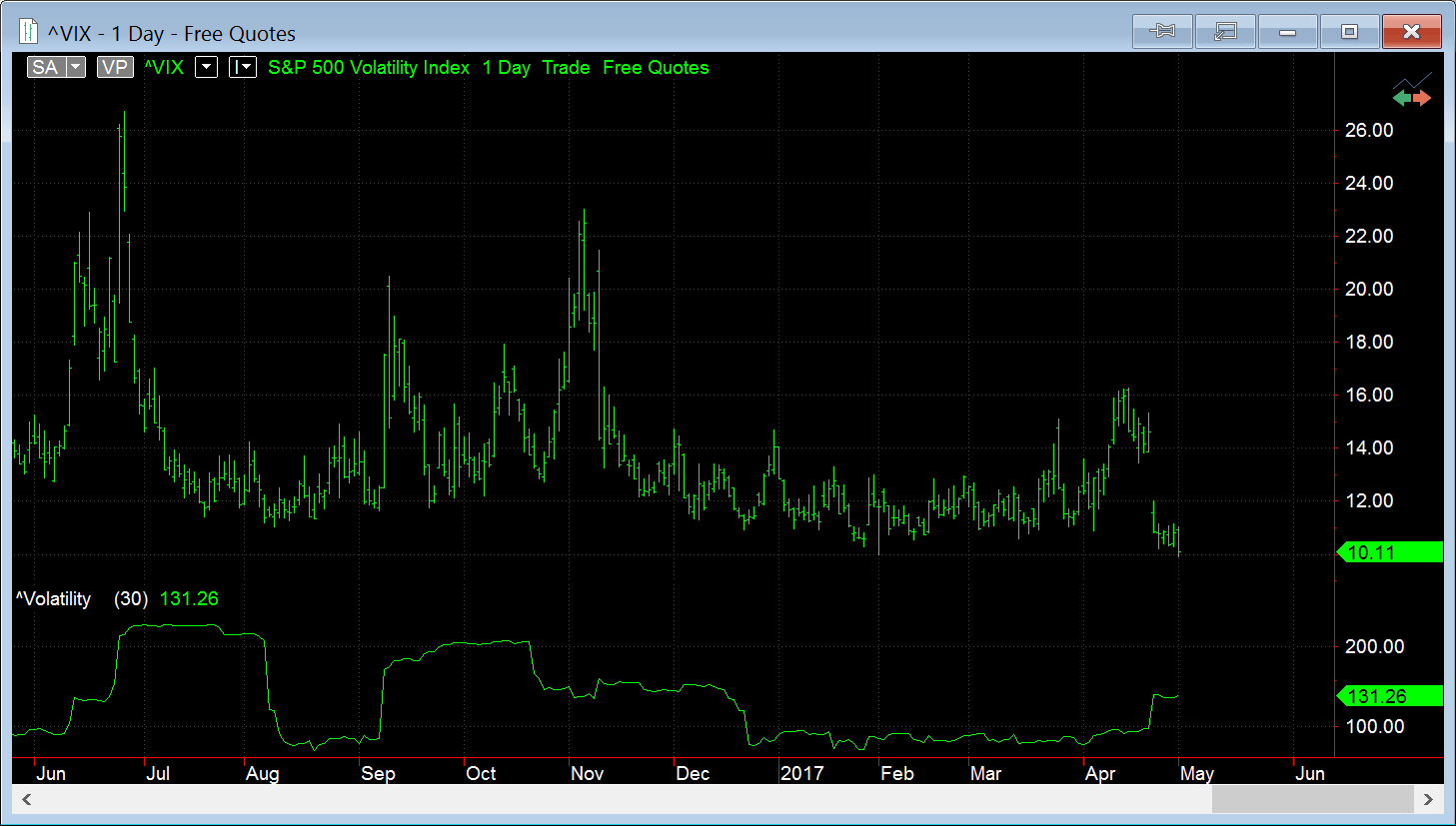 Volatility is at a one year low for the S&P 500 Index. But the volatility of the volatlity has recently spiked up 30% to 131%. This tells me that the market expects volatility but for now the levels remain low.
How to Adjust a Losing Iron Condor?
January 25th, 2017
Looks like my pre-earnings Iron Condor strategy was indeed a bad idea. GLW released their earnings before the market opened Tuesday 24th January to the surprise of analysts.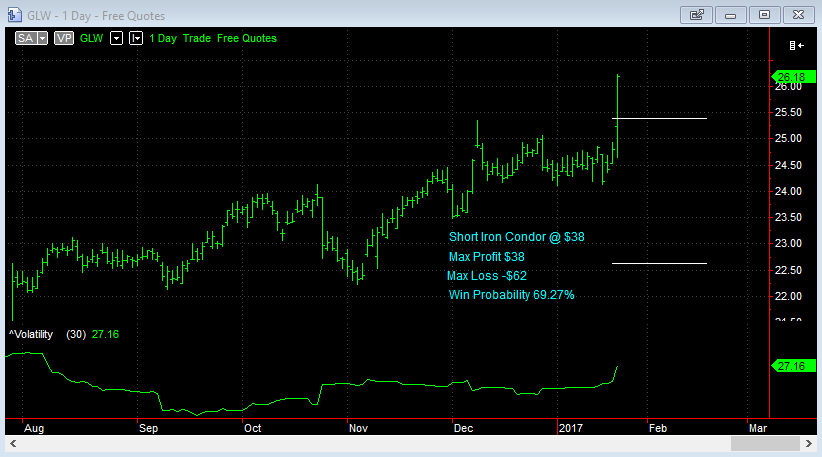 Core EPS turned out to be $0.50 on a predicted $0.44. The stock opened strong and rallied higher throughout the day to close the session up 5.7% to $26.18.
The stock is now outside the upper breakeven point of $25.38 and if it continues I will realise my max loss of $186 ($62 per contract).
What Options do I have to Adjust?
I have a few alternatives to consider as to how to manage this trade at this point:
Do nothing and hope that the market pulls back from now until expiration
Sell a higher strike put spread
Sell a higher strike put spread in the next expiration
Reverse the existing short call spread into a long call spread
Close the short call and leave the long call to run
Double down with another Iron Condor
In considering the above, I looked at the option prices at the close for the Feb 17th options: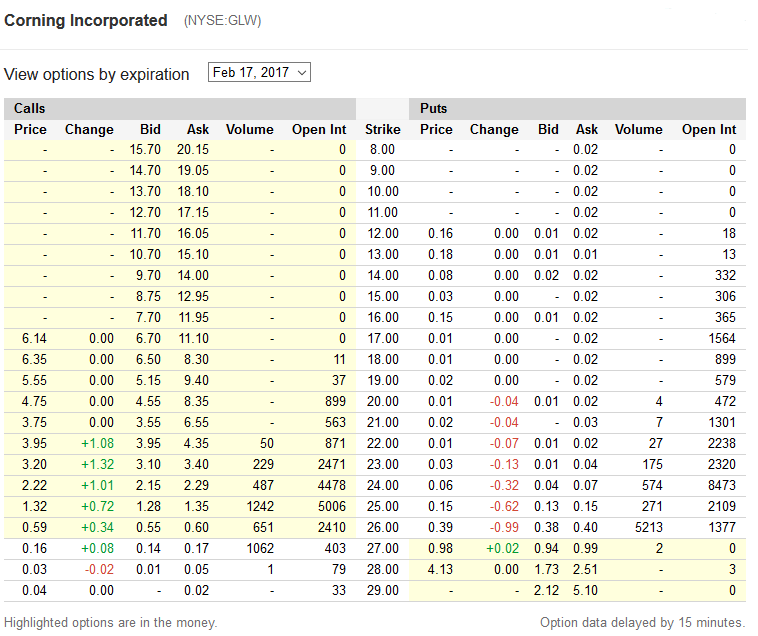 Since the pop in stock price due to earnings, the uncertainty has since been remove and can be seen in much lower option prices. Implied volatility has dropped to 18% so 2, 3 and 6 don't look like bringing in much premium. Plus, putting on another Iron Condor in March would mean having to put it with narrow strikes in order to make it worthwhile but also means a lower chance of the stock staying between the bands.
Also to consider is the sentiment since the report, which was very favorable for the future outlook of the stock. I would say that I am now bullish on the stock.
Pre-market activity also shows a strong open with the stock having traded $26.30 with an hour before the open. So what I'm going to do is go with #5 above; close out the short $25 call and leave the $26 long call open. The $25 calls closed at $1.32 but with the pre-market looking to open higher, I'm not sure what price to go with. Perhaps yesterday's offer price of $1.35?
Iron Condor Pre-Earnings
January 19th, 2017
It's not always a good idea to take on short volatility strategies pre-earnings, but take a look at this Iron Condor setup for GLW.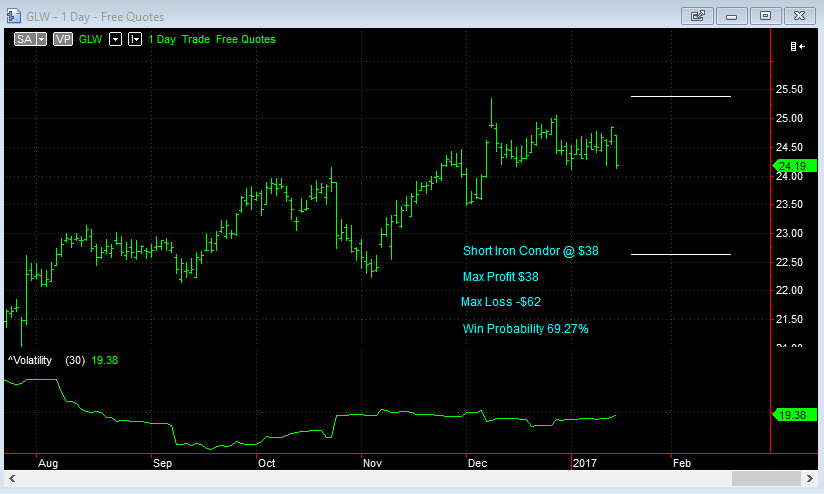 B/S
Strike
C/P
Price
Sell
$25
Call
0.48
Buy
$26
Call
0.20
Sell
$23
Put
0.23
Buy
$22
Put
0.13
Total Credit
$38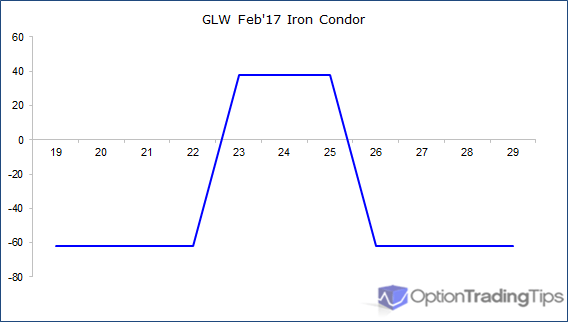 The stock has earnings out January 24th and the options expire February 17th. The implied volatility suggests there is some uncertainty leading into the announcement; IV is relatively high at 25% compared to historical vol of 15%.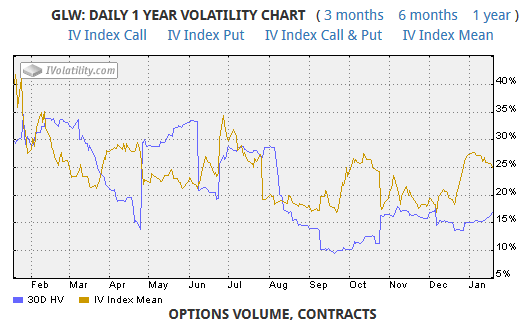 Max profit on this is $38 per contract, which is the net credit received at the time of trade. Max loss is $62. At the current volatility level, there is a 69.27% chance of success with this trade.
Stocks Down as Trump Stomps the Dollar
January 17th, 2017
US equities were down slightly in Tuesday's trade due mainly to two factors:
Comments by Donald Trump that a strong US Dollar is hurting the US economy, and
A drop in Oil Prices post domestic oil reoprt
Trump: US Dollar "too strong"
Trump was interviewed by the Wall Street Journal on Friday and remarked that he considered the $USD too strong and that it was hurting US companies. A high US dollar relative to China's Yuan makes it more difficult for US firms to export to China and conversely imports become a better alternative. Despite the stellar run of the US equity markets of late, Trump sees the continuing strength of the US dollar to be bad news for stocks. As a result, the pressure has edged stocks slightly lower.
Oil Report Casts Shadow Over OPEC Supply Pact
The other factor driving stocks lower was the US gov report on shale-oil production.
The drilling report points to higher output volumes for February for shale-oil producers in the US. This increase in supply will negatively affect the pact OPEC community has to cap their supply to 32.5 million barrels per day. As supplies are expected to rise, oil prices will drop. The drop in oil prices has been taken to be a negative for US equities.
Q4 Earnings Boost This Week
January 16th, 2017

US financial markets closed to commemorate Martin Luther King Jr. Day.
Fourth quarter results for 2016 continue this week with the majority of S&P 500 companies releasing their numbers in the coming days.
Analysts and news outlets I've seen expect the averages to be up, apparently thanks to rising crude oil prices, which I always find confusing to read. If oil prices rise, consumers have less money to spend on goods and services while also increasing the production and operating costs of many businesses. However, rising oil prices continue to be promoted as being the main calalyst for the rally in the equity market.
Nick Cunningham notes on oilprice.com that "Higher oil prices lead to a wave of capital that flows into major oil producing countries such as Saudi Arabia. Unable to use all the capital, Saudi Arabia sends the excess savings back into the global financial system. Banks then use that capital to lend. Interest rates also fall as the financial markets are more liquid. The end result is lower interest rates, more financial liquidity, higher asset values and ultimately greater consumer confidence. In short, higher oil prices could boost economic growth."
So there you go...higher oil prices means more money in the banking system, lowering interest rates and therefore stimulating economic growth.
Important Releases this Week:
| Day | Release | Time |
| --- | --- | --- |
| Tuesday | MS | BMO |
| Tuesday | CSX | AMC |
| Wednesday | Industrial Production | 9:15am |
| Wednesday | Consumer Price Index | 8:30am |
| Wednesday | Change in Crude Oil Inventories | 10:30am |
| Wednesday | NFLX | AMC |
| Wednesday | GS | BMO |
| Wednesday | C | BMO |
| Thursday | Philly Fed Manufacturing Activity Index | 8:30am |
| Thursday | Initial Claims for Unemployment Insurance | 8:30am |
| Thursday | Housing Starts | 8:30am |
| Thursday | Building Permits | 8:30am |
| Thursday | IBM | AMC |
| Thursday | SWKS | AMC |
| Thursday | AXP | AMC |
| Friday | GE | BMO |
| Friday | VRX | BMO |
| Friday | SLB | BMO |
Call Spreads and Straddle Opportunities
November 29th, 2016
99.9% of the December options for ArcelorMittal (NYSE:MT) traded in only two contracts during Monday's session. The $7 and $8 Call options traded $38 million in notional value or $1.9 million in option premium spent.
Only 10 other contracts traded in the entire December series; the $7 puts trading 10 lots.
There are no up coming earnings for MT, not until February 21st, 2017.
Also in yesterday's trade, WebMD (NASDAQ:WBMD) saw 11,500 straddles trade across the $65 strike in the December series. Only 221 other contracts traded through the remainder of the option series. Earnings for WBMD also not until the 21st Feb, 2017.
Market Close 28th November:
| Option | Market Price | Volume | Open Interest |
| --- | --- | --- | --- |
| MT Dec'16 $7 Calls | 0.64 | 22,937 | 30,112 |
| MT Dec'16 $8 Calls | 0.16 | 27,713 | 2,607 |
| WBMD Dec'16 $65 Calls | 0.03 | 11,500 | 4,993 |
| WBMD Dec'16 $65 Puts | 11.53 | 11,500 | 4,892 |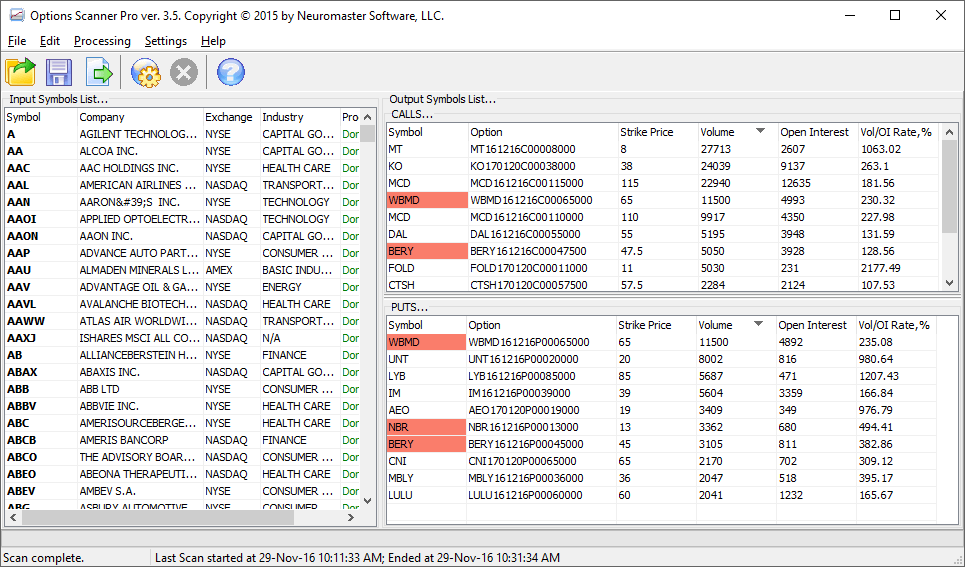 Souce: Option Scanner Pro
Update December 16th, 2016
MT closed Dec 16th at $7.66, which means the $7/$8 call spread was worth 0.66 at the close. The spread cost $48 to put on per contract (0.64 - 0.16). Net profit was $18 per contract or 37.5% of premium paid.
On 20,000 or so contracts, this amounts to $360,000 in profits on a $960,000 investment.
WBMD, however, fell short of the straddle expectations. The stock finished the Dec 16th trading at $51.16. With a total price of $11.56 for the straddle makes the lower break even point $53.44, so the stock was inside this range and therefore expired worthless.
If that was a trade held to expiration, then the trader would have dropped $13 million in premium.
Stocks End 4 Day Bull Run
November 29th, 2016
| Product | Price | Change | Change % |
| --- | --- | --- | --- |
| S&P 500 | 2,201.72 | -11.62 | -0.53% |
| DOW 30 | 19,097.90 | -54..24 | -0.28% |
| NASDAQ | 5,368.81 | -30.11 | -0.56% |
| Crude Oil | 46.96 | -0.12 | -0.25% |
| VIX | 13.15 | +0.81 | +6.56% |
After a strong November where, despite concerns regarding the US election and equities making all time highs, the US stock market has pull back on its' most recent 4 day up steak post the Thanksgiving holiday.
The Volatility Index is up 6% on concerns we are to see some increased price swings this week with the release of some key economic data; Crude Oil Inventories, Nonfarm Payrolls, US Hourly Earnings and the US Unemployment Rate to name a few.
QCOM Call Option Alert
November 28th, 2016
$1.15 billion in notional value traded across just 4 strikes of QCOM in a shortened Friday session in the US. The total premium was $310 million.
In total, the calls out traded the puts by 6,575%; calls making up 221,536 in volume compared to 3,369 on the puts.
The options with all the volume are in-the-money so there seems significant interest in this stock at this point. Earnings aren't released until the 25th January, so might be worth keeping your eyes on this one.
Market Close 25th November:
| Option | Market Price | Volume | Open Interest |
| --- | --- | --- | --- |
| QCOM Jan'17 $50 Calls | 17.88 | 63,955 | 12,552 |
| QCOM Jan'17 $52.50 Calls | 15.79 | 18,691 | 5,447 |
| QCOM Jan'17 $55 Calls | 13.06 | 108,238 | 29,166 |
| QCOM Jan'17 $57.50 Calls | 10.48 | 24,508 | 6,939 |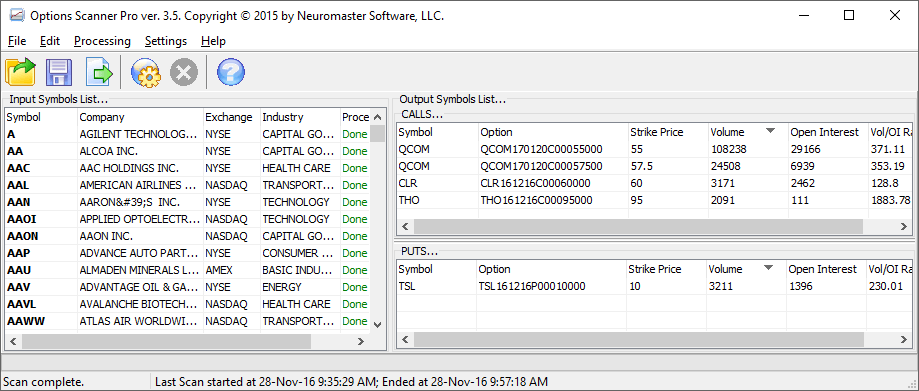 Souce: Option Scanner Pro
Zero Wins and Three Losses for November
I didn't do much during November...just wasn't motivated to look for any opportunities so the only ones I had on I just let ride out and wasn't too interested in anything new.
Not a big loss, only -$246.
| Trade | Open | Close | Days | P&L | Total |
| --- | --- | --- | --- | --- | --- |
| DDD Long Put | 20-Sep-16 | 27-Oct-16 | 37 | -49 | 1987.8 |
| JCP Long Call Spread | 23-Sep-16 | 27-Oct-16 | 34 | -47 | 1940.8 |
| CNP Long Call | 26-Sep-16 | 27-Oct-16 | 31 | -150 | 1790.8 |
A Long Shot with BLMN Puts
Huge volume going through the $15 January put options for $BLMN shares during Friday's session.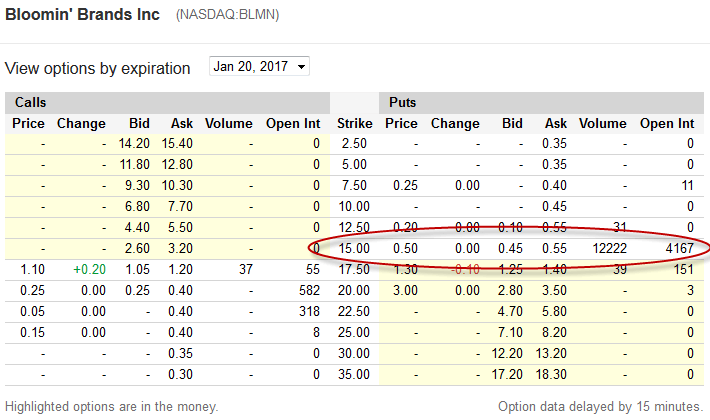 With 3 months to go the puts are only trading at 0.50. I bought 5 at the offer at 0.55. Seems a long shot, I know, looking at the chart but there's plenty of time here and the company has earnings out on October 28th.
A Rough Month for October
I closed out 4 positions Friday as the October options expired. Well, I didn't really do anything; just let the positions I had expire. 3 of those 4 were losers. I lost -$385 in total.
The only winner was the Iron Butterfly on BAC. I was pretty confident about that one; the range of the break evens was narrow and implied volatility was low. They are the same thing I suppose...low volatility will imply lower prices and a tighter risk profile for the spread. Here is a chart of how that played out;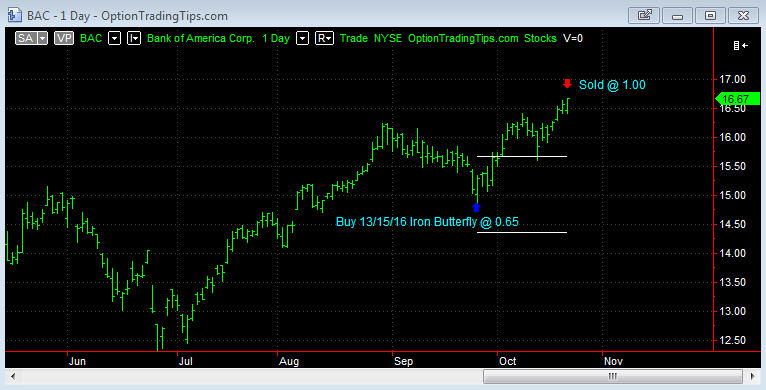 You can find the charts of the other trades for October here.
$150 into $1,050
I closed out 5 positions just after market opened Friday as it was the September expiry. The biggest winner was $LOW, which made 700% return on capital spent. Of course, they don't all turn out like that but I was happy with that win.
GT also made a decent gain with $450 with a $120 spend.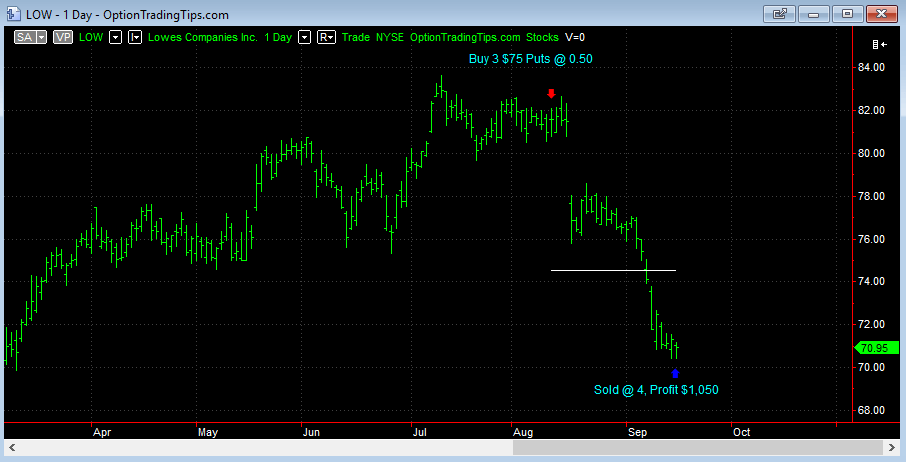 $EGO 12:1 Ratio of Calls to Puts
Eldorado Gold's call options are taking some huge interest from the market; there are 93k in open contracts across the October series vs 7.5k in interest for the puts.
The volume going through Tuesday's session was all call options - no puts traded at all. With 79k outstanding on the $4 strike alone, I thought it a good bet to also get on, so I bought 10 contracts @ 0.20.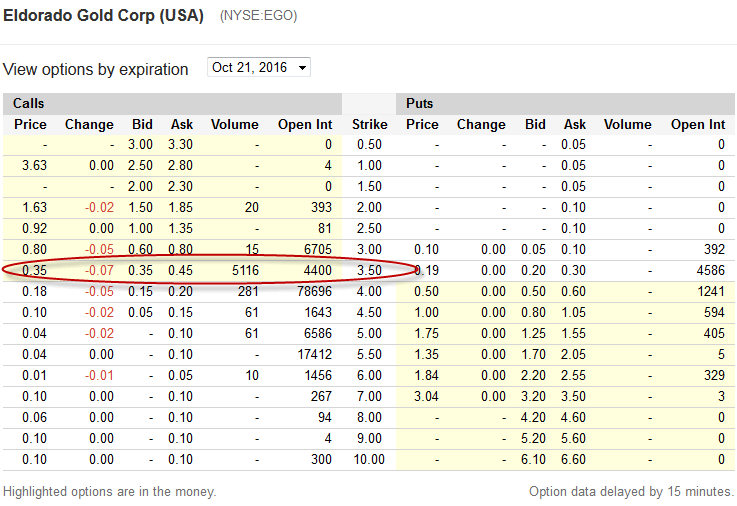 $40mil Bet on $GFI
63k calls traded through the $6 October calls on $GFI Monday. About 10k in open interest across the entire expiration, so this is a pretty large bet someone is making. I bought 10 contracts at 0.17...turns out that price is pretty bad as the stock sold off from the open. I probably could have bought in lower if I'd paid attention to the pre-open....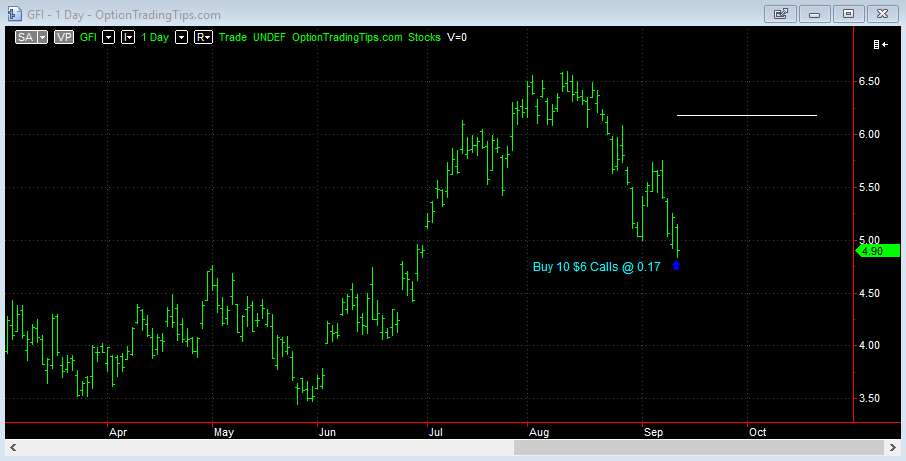 The Most Important Option Greek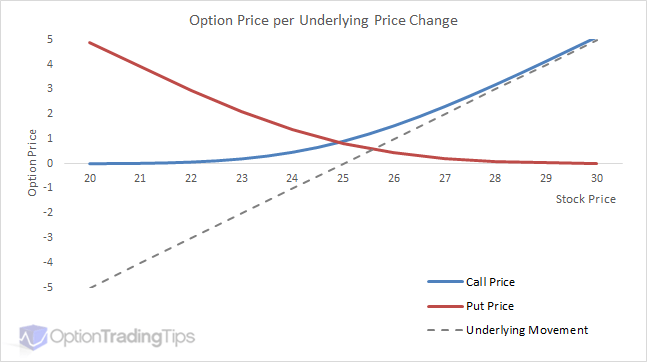 The Delta of an option does more than approximate the price move compared to the underlying; it also describes your directional bias, serves as a proxy position for the underlying instrument and estimates the probability that the option will expire in-the-money.
Delta isn't static though; it changes constantly with other pricing factors and it's important to know what they are.
July 15th Trading Summary
12 positions in total and ended up with a small profit of $47. I closed out WLL way too early and missed out on an extra $315 in profits. However, I covered by VIAV assignment with some calls that made back the loss on the premium from the bought calls, so was happy with that result.
June 17th Trading Summary
What started out well for 2 out 4 of these trades ended up all being losers. CYH almost tripled in value and ANF over double the initial investment early on. However, both of those positions took turns for the worse and I closed out all 4 positions at a loss of $335.
My trade management and exit strategies definitely need some consideration. So far, I've simply been betting on a move and waiting until expiration. Some of these trades really start out well but I hang on too long and exit them at a loss.
16% Return for May Expiration
In total I made $169 in profits using around $1,000 in risk capital for the trades closed out on the May expiration.
I took positions in 12 stocks for 14 trades in total, as I made two adjustment trades in MRO and ETE. VALE was the biggest winner with a gain of $360 and the biggest loser was EMC, losing $160.
$LC CEO Dumped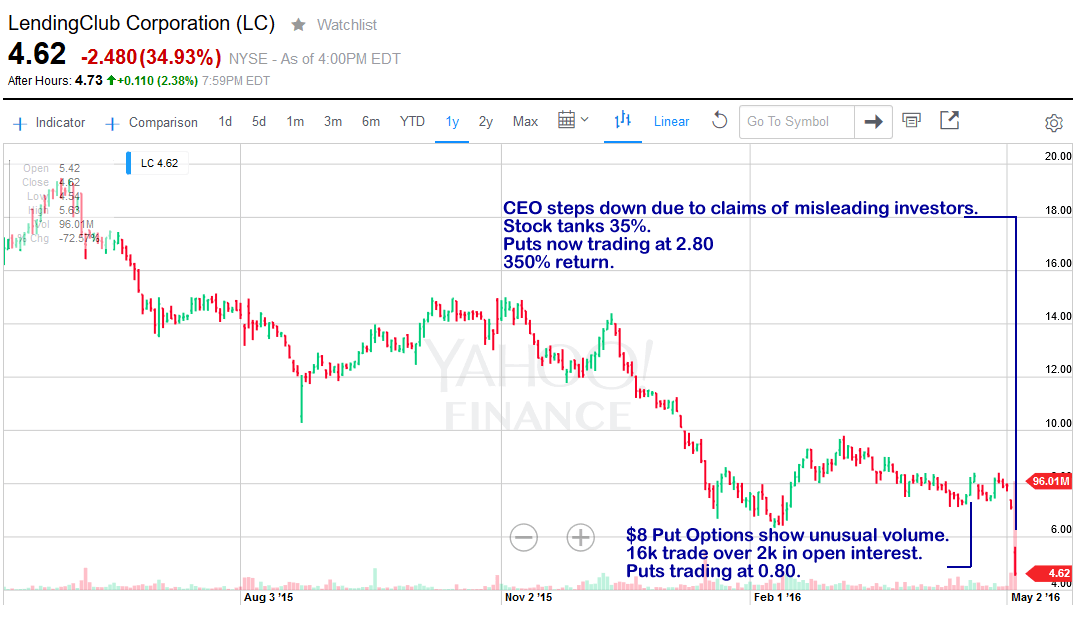 Massive volumes went through the $8 puts in the weeks leading up to Lending Clubs dismissal.
Make Time Decay work for you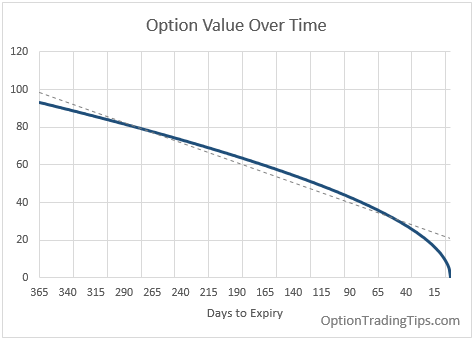 As options approach their expiration date, their value can erode quickly. If you're long out of the money options then this effect can be quite dramatic; you can lose money even when the market moves in the right direction.
HRB Move an Inside Job?
HRB Stock tanked on Wednesday the 27th after the company reported a disappointing tax season. Outlook remains bleak for the stock and their next report is due out in June.
However, it appears someone knew of the pending downward move in the stock.
Option scanning tools showed that the $23 put option had significant volume trade the day before the stock plummeted. 19k options traded through one strike, which saw the puts outnumber the calls traded by 5 to 1. The next day, HRB drops 13.56%.
The Puts rose 386%
Using the Delta to Hedge Options
Delta measures the theoretical change to the value of an option as the underlying changes. This means the option's value is tied to the underlying by the amount of "delta" the option theoretically has. Traders can then offset the risk of the opiton by trading an appropriate amount of shares in the underlying security
Pricing Options with the Binomial Model
The Binomial Model is the model of choice for American styled options - that is, those options where you can exercise any time up until the expiration date. Even though Black and Scholes was the original option pricing model, the Binomial Model is probably more widely used than B&S.
Option Pricing
There's lots of programs out there that will charge you a monthly fee for a calculator that prices up option contracts. Not here!
I've put together a little something in Microsoft Excel that just does this, plus prices up all of the Option Greeks.
Option Combinations
Browse our comprehensive dictionary of option combination strategies. Learn how option combinations give you the ultimate flexibility with your investment decisions.