Sold $17 Put Option on WTW
23rd January, 2015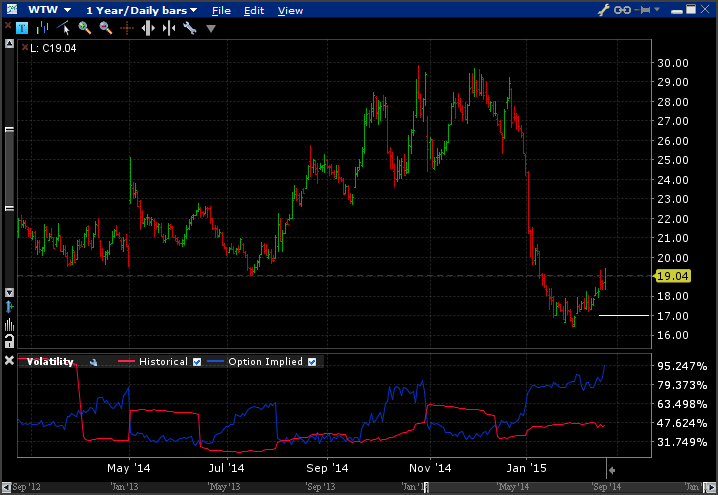 Noticed a few entries of Weight Watchers (WTW) appear on the short put trade ideas post Friday's trading session.
The $17 March put option is bid at 1.25, which shows a return of 6.56% on the long stock capital if exercised. Expiry is March 20. I placed an order to sell the put for $1.30, which was filled.
Earnings for WTW, however, are out this Thursday and will be released after market close.
My probability tool estimates a 65% chance of the option expiring out of the money by March 20 given the 111% implied volatility of the $17 strike price.
I'm still thinking about placing a sell stop limit order at around $16 just in case. We'll see.
Market Close 24th Feb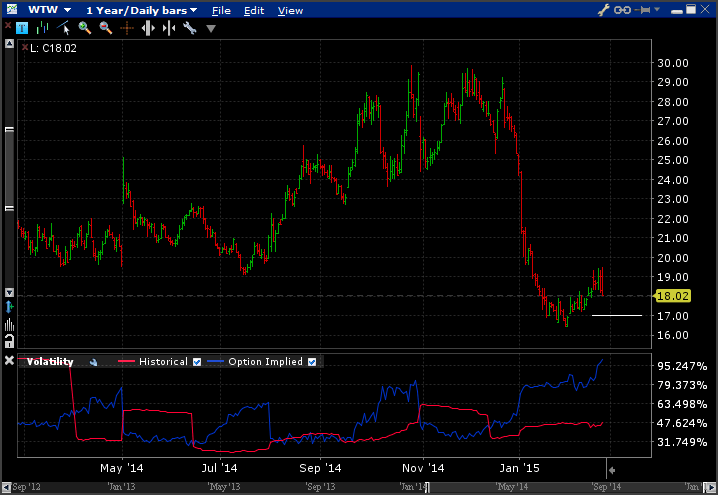 Some volatile action today! Market down slightly, so my put option is up a little - about $20 unrealized loss so far. Getting nervous about this one...the strike isn't that far away from current close.
Update, Feb 27th - After Earnings Release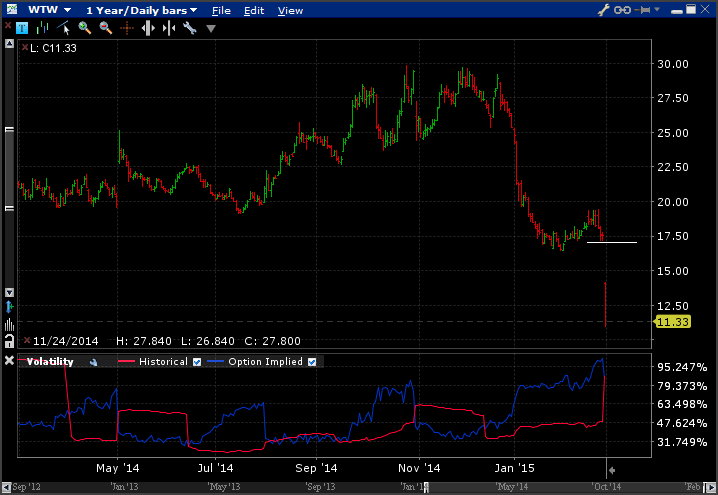 An extremely dissapointing result for Weight Watchers saw the stock dumped after its' release. The stock plunged 35% and my short put option is naked i.e. no downside protection so my losses are significant.
The position so far has an unrealized loss of -$440.70 and it could get worse. The delta of the position is now close to +1 so I will begin to lose money 1 for 1 if the stock continues to go lower.
It's an important lesson for me - even on a well know, low priced stock, not to just short a put without protection.
To rub a bit of salt into the wound, I had a look back over the volume and open interest of the strikes in the lead up to the announcement and see lots of activity traded on the $15 put. See the below images for each trading day leading up to the earnings annoucement - each thumbnail represents a day;
Seems clear there was a lot of money betting on a decline below $15!
Let's see how I get out of this one.
Update, March 2nd
Not being able to watch the stock continue to slide and wanting to just move on, I decided the best thing to do was cut my losses, as they say, and just exit the short put - so I bought it back 30 minutes before the close being filled at $6.90. Ouch!
Total loss on the trade was $560.