Open Position Summary
Two new trades from Friday; long puts on NLY and LGF. Both showed significant interest in volumes from the Option Scanner.
| Trade | Open | Days | P&L |
| --- | --- | --- | --- |
| ATVI Long Strangle | 2-Jun-16 | 36 | -124 |
| CY Long Call | 2-Jun-16 | 36 | -40 |
| GOGO Long Put | 6-Jun-16 | 32 | -54 |
| VLO Long Put | 6-Jun-16 | 32 | 384 |
| RBS Long Call | 8-Jun-16 | 30 | -100 |
| PBI Long Call | 9-Jun-16 | 29 | -75 |
| GGAL Long Call | 9-Jun-16 | 29 | -13 |
| MT Long Call | 9-Jun-16 | 29 | -100 |
| PLD Long Call | 9-Jun-16 | 29 | -90 |
| VIAV Covered Call | 22-Jun-16 | 16 | 18 |
| NLY Long Put | 8-Jul-16 | 0 | -6 |
| LGF Long Put | 8-Jul-16 | 0 | -15 |
June 17th Trading Summary
What started out well for 2 out 4 of these trades ended up all being losers. CYH almost tripled in value and ANF over double the initial investment early on. However, both of those positions took turns for the worse and I closed out all 4 positions at a loss of $335.
My trade management and exit strategies definitely need some consideration. So far, I've simply been betting on a move and waiting until expiration. Some of these trades really start out well but I hang on too long and exit them at a loss.
Two New Trades for 2nd June
Long $11 Calls in $CY and Long Put Spread in $ATVI.
$RF Long $10 Calls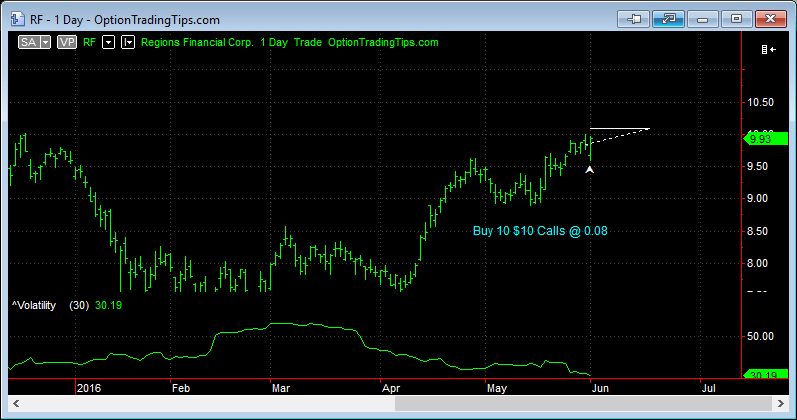 Bought 10 calls of the June17 expiration in $RF on the open. There is massive interest in the $10 strike that I noticed in my option scans. Only two and a half weeks to go but the volatility is relatively low.
$VIAV Making a Perfect Start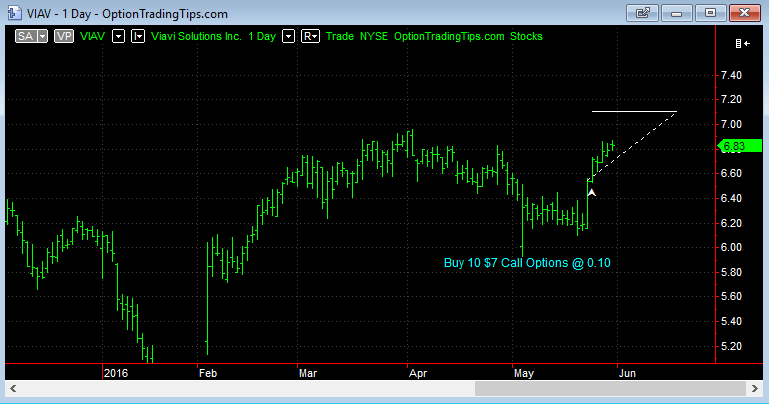 Bought 10 $7 June17 call options on VIAV due to a volume alert on the option scanner. So far, the stock's path is picture perfect.
16% Return for May Expiration
In total I made $169 in profits using around $1,000 in risk capital for the trades closed out on the May expiration.
I took positions in 12 stocks for 14 trades in total, as I made two adjustment trades in MRO and ETE. VALE was the biggest winner with a gain of $360 and the biggest loser was EMC, losing $160.
$LC CEO Dumped
Massive volumes went through the $8 puts in the weeks leading up to Lending Clubs dismissal.
Make Time Decay work for you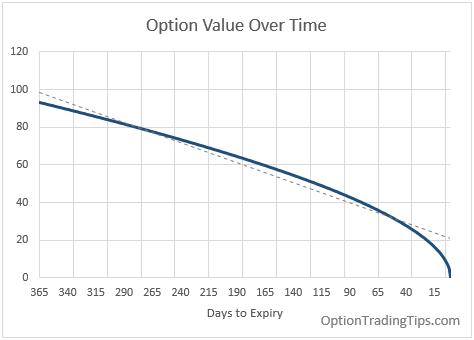 As options approach their expiration date, their value can erode quickly. If you're long out of the money options then this effect can be quite dramatic; you can lose money even when the market moves in the right direction.
HRB Move an Inside Job?
HRB Stock tanked on Wednesday the 27th after the company reported a disappointing tax season. Outlook remains bleak for the stock and their next report is due out in June.
However, it appears someone knew of the pending downward move in the stock.
Option scanning tools showed that the $23 put option had significant volume trade the day before the stock plummeted. 19k options traded through one strike, which saw the puts outnumber the calls traded by 5 to 1. The next day, HRB drops 13.56%.
The Puts rose 386%
Using the Delta to Hedge Options
Delta measures the theoretical change to the value of an option as the underlying changes. This means the option's value is tied to the underlying by the amount of "delta" the option theoretically has. Traders can then offset the risk of the opiton by trading an appropriate amount of shares in the underlying security
Pricing Options with the Binomial Model
The Binomial Model is the model of choice for American styled options - that is, those options where you can exercise any time up until the expiration date. Even though Black and Scholes was the original option pricing model, the Binomial Model is probably more widely used than B&S.
Option Pricing
There's lots of programs out there that will charge you a monthly fee for a calculator that prices up option contracts. Not here!
I've put together a little something in Microsoft Excel that just does this, plus prices up all of the Option Greeks.
Option Combinations
Browse our comprehensive dictionary of option combination strategies. Learn how option combinations give you the ultimate flexibility with your investment decisions.

Scan thousands of stocks and ETFs for profitable option opportunities in minutes. Option Scanner Pro will tell you where the huge option volume action is taking place.