Short Put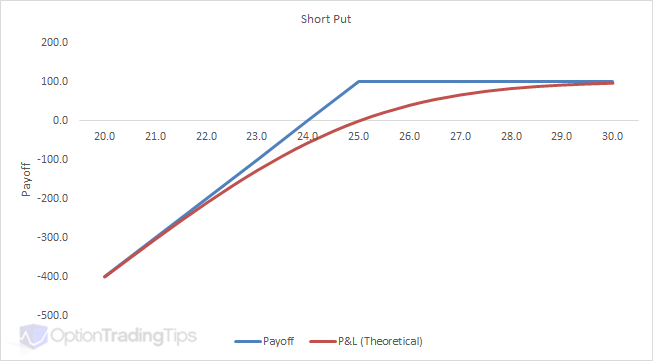 Components
A short put is simply the sale of a put option.
Risk / Reward
Maximum Loss: Unlimited in a falling market.
Maximum Gain: Limited to the premium received for selling the put option.
Characteristics
When to use: When you are bullish on market direction and bearish on market volatility.
Like the Short Call Option, selling naked puts can be a very risky strategy as your losses are unlimited in a falling market.
Although selling puts carries the potential for unlimited losses on the downside they are a great way to position yourself to buy stock when it becomes "cheap". Selling a put option is another way of saying "I would buy this stock for [strike] price if it were to trade there by [expiration] date."
A short put locks in the purchase price of a stock at the strike price. Plus you will keep any premium received as a result of the trade.
For example, say AAPL is trading at $98.25. You want to buy this stock buy think it could come off a bit in the next couple of weeks. You say to yourself "if AAPL sells off to $90 in two weeks I will buy."
At the time of writing this the $90 November put option (Nov 21) is trading at $2.37. You sell the put option and receive $237 for the trade and have now locked in a purchase price of $90 if AAPL trades that low in the 10 or so days until expiration. Plus you get to keep the $237 no matter what.