Option Charm
Option Charm indicates how much the delta will change as one trading day passes. Charm is more commonly referred to as "Delta Decay". sdsad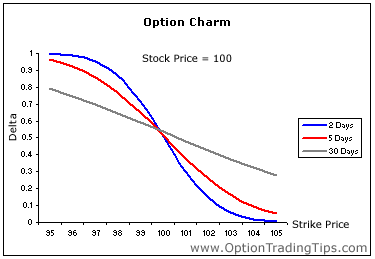 The above diagram illustrates the effect of option charm on the delta of an option. The diagram shows option delta across a series of strike prices calculated at 3 different points in time. Notice how the delta of an ITM call option approaches 1 as the option approaches expiration? And that the OTM call options approach 0 as the option nears its expiration date?
Because Option Delta is a probability estimate of the options intrinsic value, Charm is especially useful right near the options expiration date. As expiration closes in, the probability of an option that is out of the money expiring in the money decreases rapidly as each trading day passes and the option charm will estimate how much the decay will be.
The type of trader most likely to benefit from the use of option charm are those traders who use options as a hedging tool. A trader that is hedging his/her delta at the close of business may want to consider the delta decay that the portfolio will experience overnight and hence look at the charm of his/her option position.
The change in the delta will be especially evident the day before a stock goes ex-dividend.
All other things being equal, upon market open the next day the delta of the portfolio will differ by this decay. This may actually prevent the trader from over or under hedging.
The Charm value is the same for call and put options and will range in value from -1 to 1.
ITM call options and OTM put options will have positive charm values. Conversely, OTM call options and ITM put options will have negative charm. So, basically, option charm decreases as the strike price increases.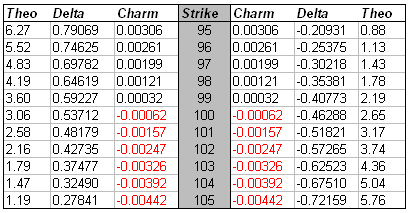 The above is a sample of what you can expect to see from Option Charm values. Notice that for ITM call options and OTM put options show positive charm, while it reverses for OTM calls and ITM puts?