Option Vega
The Vega of an option indicates how much, theoretically at least, the price of the option will change as the volatility of the underlying asset changes.
Vega is quoted to show the theoretical price change for every 1 percentage point change in volatility. For example, if the theoretical price is 2.5 and the Vega is showing 0.25, then if the volatility moves from 20% to 21% the theoretical price will increase to 2.75.
Vega is most sensitive when the option is at-the-money and tapers off either side as the market trades above/below the strike.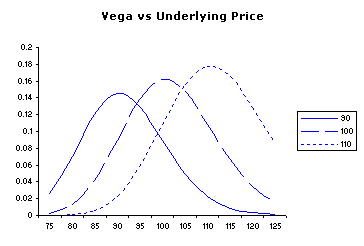 The above graph plots the option Vega vs Underlying price for 3 different strike prices. Notice that the behaviour of an option Vega is similar to Gamma: increasing as the option moves from being in-the-money to at-the-money where it reaches its peak and then decreases as the option moves out-of-the-money.
Note: like the Gamma, Vega is the same value for calls and puts.