Long Condor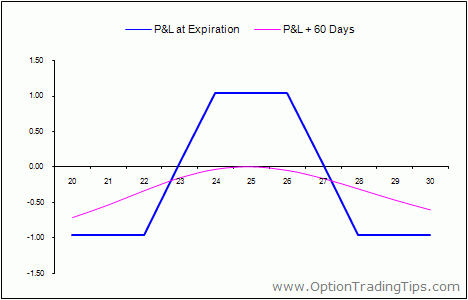 Components
Long ITM Option
Short ITM Option
Short OTM Option
Long OTM Option
A condor is very similar to a butterfly strategy. The difference is that the middle strike of the butterfly is split into two strikes.
Example: Long 97 Call, Short 99 Call, Short 101 Call and Long 103 Call.
Risk / Reward
The best way to look at the risk/reward of a condor is to break it down into two spreads. When you do this, you will notice that a long condor, which is made up of call options, is actually two call spreads - a long call spread and a short call spread. In other words:
Long lower strike call spread
Short higher strike call spread
Max loss: Limited. The maximum loss of a long condor occurs at the wings of the option spread. It is the minimum of the difference between the lower strike call spread less the higher call spread less the total premium paid for the condor.
Max gain: Limited. The maximum profit of a long condor will be realized when the stock is trading between the two middle strike prices. When you look at the Condor as 2 call spreads, take the one that has the maximum distance between the strike prices, subtract the net premium paid for the spread and that is the max loss.
An easier way
It's a bit cumbersome to think of a condor this way in order to determine your profit and loss points. A faster and more accurate method is to use a spreadsheet like the one below:

Long Condor Payoff.xls
Just enter the strike prices and option premiums into the top left input box to define the legs for the combination and the graph will update with the profit and loss.
Characteristics
Just like a long butterfly, Long Condors are used when an investor believes that the underlying market will trade in a range (sideways) up until the options expire.
Condors are best used when the options are close to expiration. If the options are longer dated then the underlying asset has more chances to break away and trade outside of the boundary exercise prices.