Sold $33.50 Put Option on BBY
Closed: Put expired worthless, profit of $69.
6th January, 2015

BBY showed up as a candidate on the daily option scans reported on the home page showing a spike in implied volatility and a return on strike price of over 2%.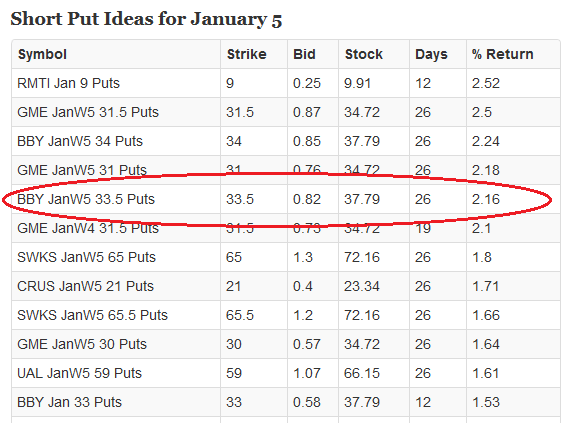 There are currently 4 option expiries listed in January for BBY. The option listed in the above scan expires January 30th, which I decided was a little too long for this trade. No specific reason for it, just when I looked at the chart I wondered what closer expiry dates would list for the same strike.
Here are the two closest expiries for Jan;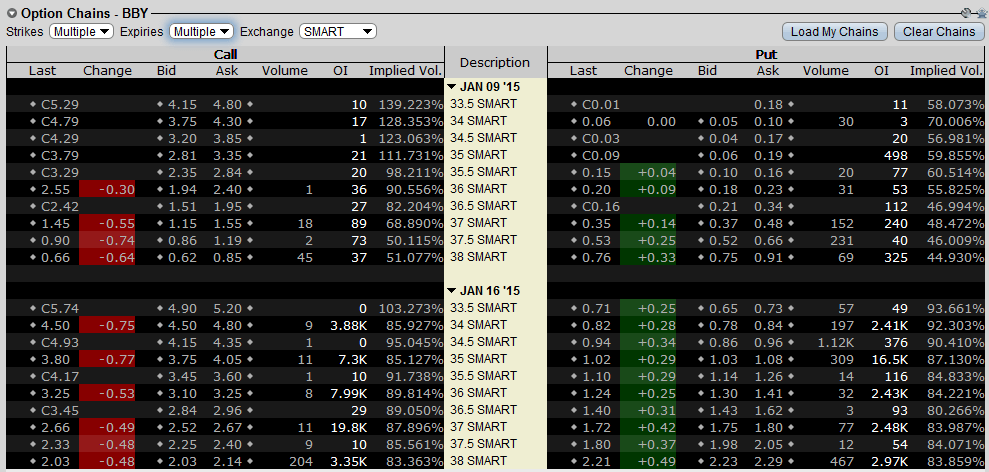 9th Jan's prices were too low to worth it so looking at Jan 16ths options, the $33.50 fairly decent at 93% implied volatility.
My sell order for 0.69 was filled;
The $33.50 strike is 11% away from the current last price. So I'll leave it for a few days and if the stock begins to drop I'll consider putting in a sell order for the stock just below the strike to cover me if BBY tanks.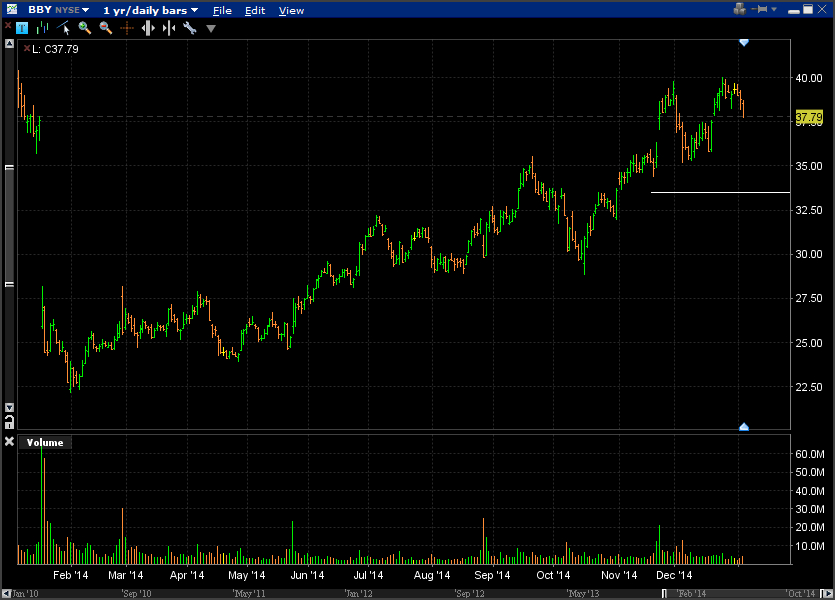 Update: 7th Jan
BBY finished the session up 2.88% closing at 38.53. The $33.50 put options closed 0.49 @ 60 - mid price of 0.545. So my position is up slightly by $14.50.
Update: 8th Jan
Another strong session. Stock finished higher +1.51% @ $39.11. Puts down slightly bid 0.45 @ 0.49 (mid 0.47). Position up $22 per contract.
Final Update: 16th January, 2015
BBY tanked 14% on Thursday, closing down $5.61 to close the session at $34.40 - just 0.80 away from the short put strike price. I considered placing a sell stop order on the stock for Friday's session in case it traded there, however, when I looked at my broker screen there was an alert on the stock stating short sales temporarily banned. So, I left the position open. If BBY crossed the strike post expiration date and I was exercised resulting in taking delivery of the stock, I would look at shorting calls on it. Turns out during Friday's session BBY traded up 2% ending the week at $34.99, which means the short $33.50 put expired worthless and I keep 100% of the $69 premium.