Put Spread Trade - Avon Products Inc. (AVP)
14th January, 2015
Volume Spikes for the close of business 13th Jan showed AVP, Feb 20th Puts trading 20k over 3k of open interest. Earnings are out on February 12th.

Buying puts is interesting as the stock is currently in a strong downtrend - perhaps information is leaking about pending announcement? Looking at the prices of the puts, however, I can see that they seem expensive. The implied volatility confirms this; IV is high and rising - 71.65% vs 35.87% a month ago. Historical volatility of the stock is moderate but also rising - 41.24% vs 34.85% a month ago.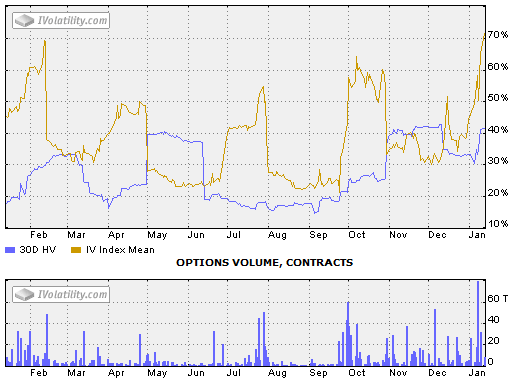 I like the idea of shorting the stock before earnings as the trend is down, but seeing as the vol is fairly high I am reluctant to go straight for a long put. I would like to limit my risk a little here as the premiums are expensive.
So I think a Bear Put Spread is a good trade idea here. However, the Feb 20th expiry doesn't have any strikes lower than $7 so I'm looking at the next expiry; Feb 27th.
My order is to buy the $7 put and sell the $6.5 put for a net debit of $15 per contract. Buying the put outright would cost $45 per contract. The lower risk achieved is at the expense of lower gains if the stock does tank; capped at $35 per spread with the put spread and uncapped (limit stock trading at zero) with a long put. Risking $15 to make $35 on a down-trending stock post earnings announcement.
Order Status Update

My spread order was filled @ 0.15; 0.50 for the $7 and 0.35 for the $6.50 strikes.