Short Condor (TASR)
25th February, 2015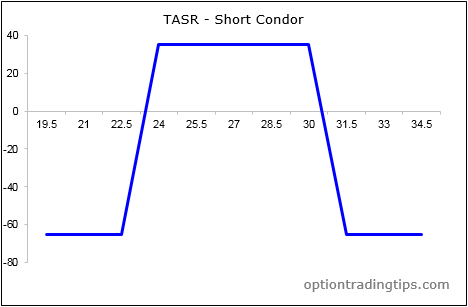 This trade could see a quick result as TASR's earnings are out before market tomorrow morning!
I have a 26% breakeven buffer with this Condor profile - let's hope it holds up.
The order was filled at a $35 credit - after I modified my order down from an initial $38 credit. Here are the order screens, confirmations and option chain;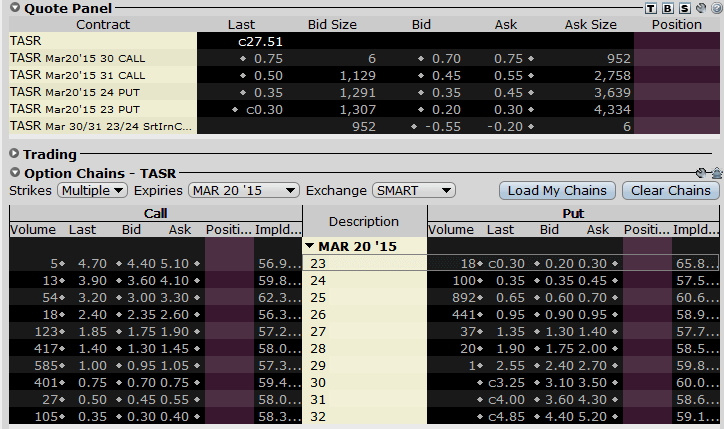 Update, Market Close - 26th Feb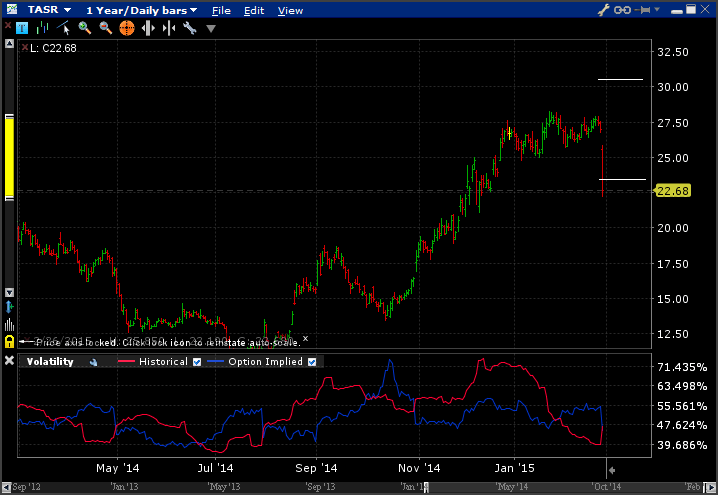 Despite recording records sales figures, TASR's shares dropped a whopping 16.14% to close at $22.68. However, in after hours trading it is up slightly by 1.08% at $22.93.
The better than expected revenue was eclipsed by the worse than expected expenses resulting in a lower EPS number. Here are the reports;
Taser Reports Quadruple Sales Figures
Given the boost in after hours trading I'm hoping that the sell off was exaggerated and the stock will recover somewhat - especially seeing as there are three weeks to go until expiration. It's not that far off the breakeven point now, which I think is positive given such a massive sell off.
Unrealized P&L is down $43.10.
Update, Market Close Feb 27th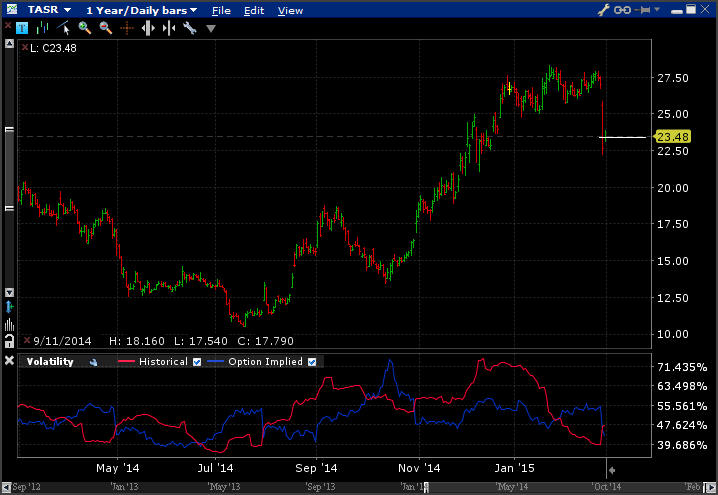 Pretty thin action Friday...the stock ended the week right on the lower breakeven point. Hopefully it edges higher during monday's session.
Position Closed, March 20th
Closed Friday @ 24.09, just above the lower breakeven point. The spread expired worthless so I keep the entire premium of $35 before brokerage.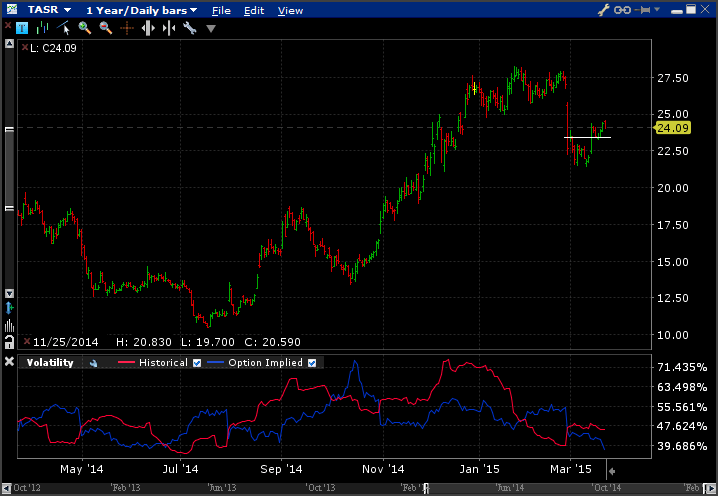 Option summary of the trades;
| Symbol | Position | Price | Close | P&L |
| --- | --- | --- | --- | --- |
| TASR Short Condor | | | | |
| TASR Mar20 $23 Put | 1 | 0.2 | 0 | -20 |
| TASR Mar20 $24 Put | -1 | 0.4 | 0 | 40 |
| TASR Mar20 $30 Call | -1 | 0.5 | 0 | 50 |
| TASR Mar20 $31 Call | 1 | 0.35 | 0 | -35 |
| Total | | -0.35 | 0 | 35 |