Short Call Spread (CAT)
Closed. Total Loss: -$22.50 Length: 15 Days.
Trade Start: 28th January, 2016
CAT has been on a strong downtrend all year. Earnings are out in the afternoon of the 28th and I am betting that the trend will continue. Because implied volatility is high I don't want to net buy options e.g. put spreads. Instead, I sold the 62.50 / 63 Call Spread.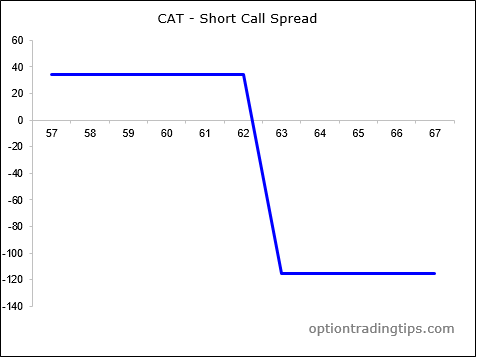 Here's the chart with the breakeven point included: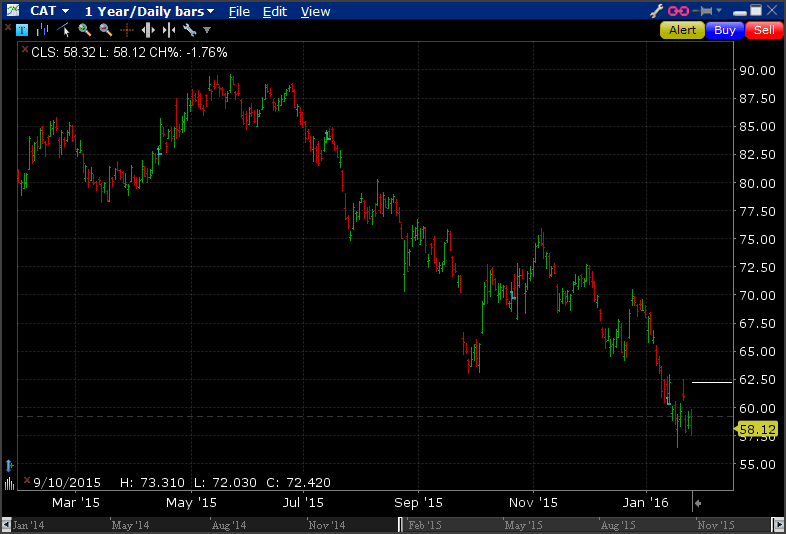 January 28th
I expected the stock to continue with the downtrend and take advantage of the high implied volatility by shorting a spread. They had earnings out during the day. However, even though earning results were poor the stock actually rallied ??? on the positive outlook expressed by the CEO for 2016. It was down slightly in after hours trading. I won't do anything to the position at this stage...I'll wait and see how it goes after Friday's session.
January 29th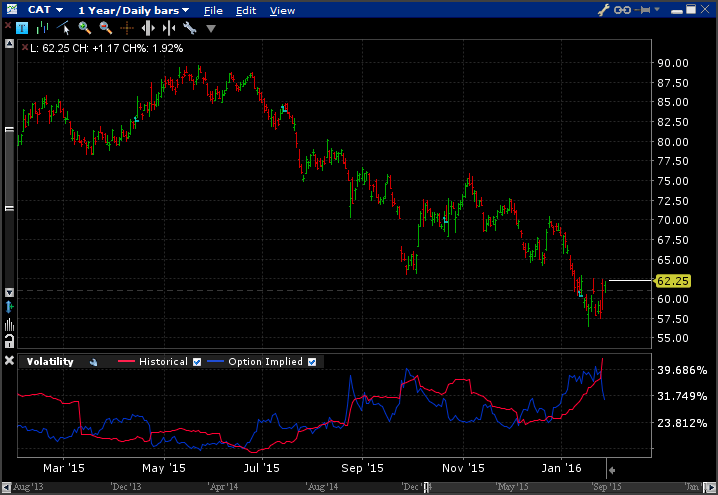 Caterpillar (CAT) Again, CAT has rallied on Friday to end the session up 1.90%. It is above the upper breakeven point of the call spread due to positive outlook from investors. Comments from the company during the earnings call indicated a tough year but they are cutting costs to remain profitable. I think the downward trend to continue and hope it turns around before expiration.
February 1st
Caterpillar (CAT) Up slightly trading at $62.66. Still trading above the upper level of $62.23, so looking for downward pressure for the call spread to be profitable.
February 2nd
Caterpillar (CAT) down -3.19% to $60.67 and now below the level needed to be profitable. However, the position still shows a loss as volatility has increased and there's still a week and a half to go.
February 3rd
Caterpillar (CAT) has rallied 4.29% to end the session trading at $63.27, which is now above the upper break level for the Call Spread. However, it is down slightly in after hours trading so hopefully it pulls back. Another week to go though so I'm not too worried about this one at this stage.
February 4th
Caterpillar (CAT) is now a bit of a worry. Stock is up 4% to $65.96, which is now 6% above the upper break level. There is still a week to go though. But I was thinking of putting on a small adjustment trade for tomorrow's expiration - perhaps a short call spread slightly out of the money. I'll see how the market is approaching the open.
February 5th
Caterpillar (CAT) little changed on Friday. Call spread down -$99.90.
February 8th
Caterpillar (CAT) good to see a reversal; down 2.33%. Spread made some ground but still showing a loss of $49.10.
February 10th
CAT the big mover today; down 2.82% to end the session at $62.13, which is just below the upper level for the spread. If the stock remains below this level until end of the week the trade will be profitable. Open P&L still shows a loss but it has reduced from -$63 to -$34.80.
February 11th
Another strong downside move for CAT, which is just what I needed. The stock was down -1.19%. P&L has moved from -$34.80 to up +$1.20. Last trading day is tomorrow. The stock is still close to the upper break level, so I may close it out on the open - I just want to see how the market looks to open before deciding.
Expiration Day, February 12th
I ended up placing a closing order for CAT on the open to exit the Call Spread at 0.16. This price was based on the market prices from the prior day, which I placed to exit by buying the spread at the offer price to ensure I was filled. The pre-market indicated a strong open and CAT was trading close to the upper break levels. If the market rallied and closed between the $62.50 and $63 strikes I would have been called and assigned 300 shares at $62.50 resulting in a $18,750 capital outlay. If it closed above $63, then both assignments would have cancelled each other out and I would have reached my maximum loss of $115.
I was filled on my closing spread order and ended up realizing a loss of $22.50. CAT ended up closing at $63.15 so the exit ended up a great decision.
| Symbol | Position | Price | Close | P&L |
| --- | --- | --- | --- | --- |
| CAT Short Call Spread (comms $7.72) | | | | |
| CAT Feb12 $62.50 Call | -3 | 3.274 | 0.304 | 891 |
| CAT Feb12 $63.00 Call | 3 | 3.175 | 0.13 | -913.5 |
| Total | | -0.297 | -0.522 | -22.5 |